Another Vegan's Lunch Box
In homage to
Vegan Lunch Box
, I thought it would be fun to post my own. I only have class three days a week this semester, but they're long days - roughly 9-6 straight through with a break for lunch at 12 or 1. I usually take my lunch, both to save money and to provide some variety. My options when eating out for lunch are a) burritos, b)french fries, c) spaghetti, or d) a Subway sub. Nothing terribly exciting, and not really worth the money when I can bring something healthier and tastier of my own.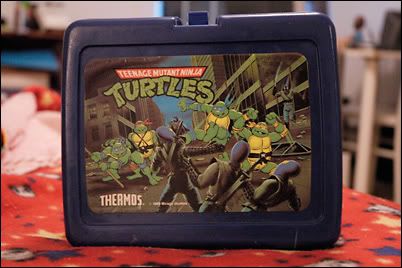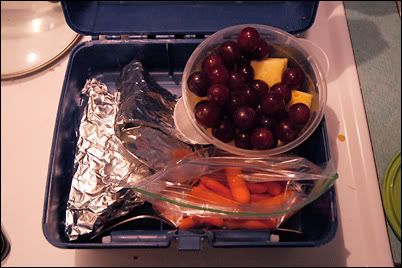 This is my box. It's not as swanky as Shmoo's, but it gets the job done. It's a Teenage Mutant Ninja Turtles lunchbox circa 1989. At that time, I was 6.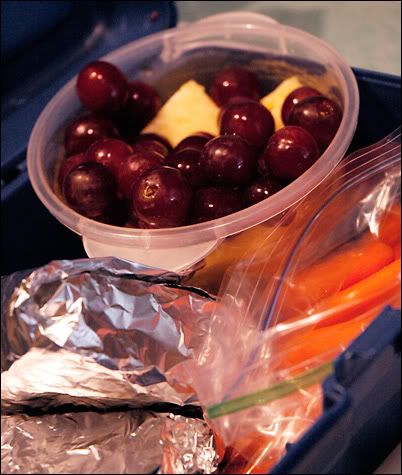 A closer look at what's inside. Red grapes and fresh pineapple chunks in the tupperware, and baby carrots in a ziploc. Neither of these things are actually Tupperware or Ziploc brand, though. My brand-name container money goes to art supplies and food instead.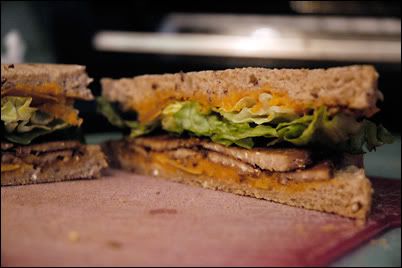 And finally, here's what's in the foil. A tempeh and mashed sweet potato sandwich with lettuce on multigrain bread. This was SO GOOD. I've long been a fan of putting mashed potatoes in my sandwiches, so last night when I baked sweet potatoes I threw an extra in. Mashed it up (skins and all) with salt, pepper, paprika, garam masala, and some chipotle hot sauce, and then put it to good use this morning. There's still a good bit left, which is great because it means I can take another one of these sandwiches tomorrow.