Fruit Salad + Pesto Potatoes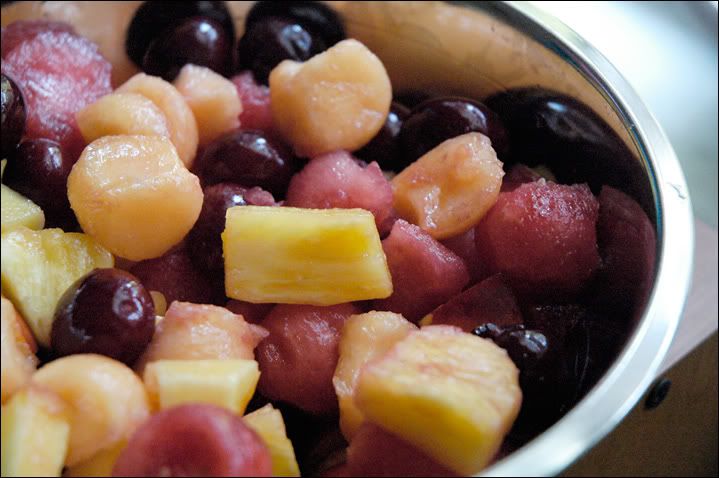 I'm in total fruit-loving mode right now. I'm pretty much always in fruit-loving mode, actually, but I have an enormous amount of fruit in my fridge right now that's kicking me into overdrive. This has been my lunch for the last week, pretty much. Big bowls of fruit - in this case watermelon, cantaloupe, fresh pineapple, a nectarine, and of course cherries. Yum. Again, not something that really requires a picture, but fruit is just so pretty that I couldn't resist.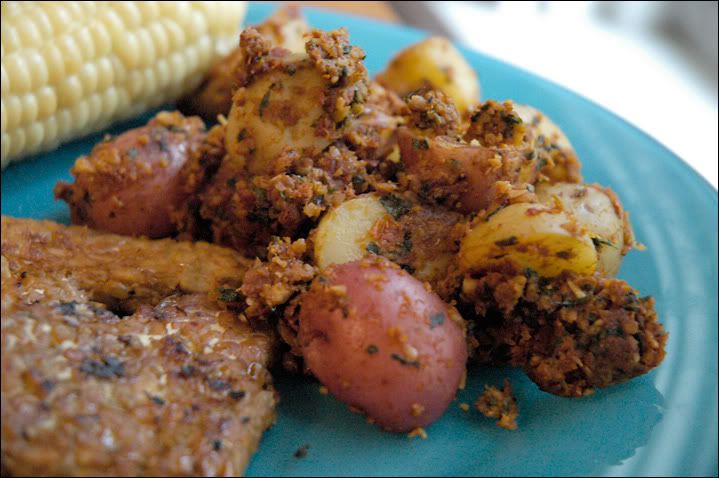 I've been craving pesto lately, so while thinking about what to make for dinner tonight I put that craving together with the little potatoes I bought a few days ago and came up with this: un-dried tomato pesto on steamed new potatoes. It's really good. Especially considering that I just made it up as I went along. Luckily the farmer's market was open today, so I was able to walk down and get basil this morning. The rest of the meal was sauteed tempeh and corn on the cob.
Today's dinner picture came out a lot better than yesterday's cobbler, except for that giant blown highlight in the background. Taking food photos in front of a window, while infinitely better than the yellow indoor lighting I usually use, has disadvantages all its own. Alas.
Sun-Dried Tomato Pesto
1/4 c sun-dried tomatoes (mine are NOT oil-packed)
1/4 c packed fresh basil
2 Tbsp pine nuts, toasted
3 cloves garlic
1 tsp olive oil
2 Tbsp water
1/4 tsp salt
pepper to taste
Dump all of the ingredients into a food processor (or blender, I suppose) and whizz until it's thick and pasty. If you want to use it as a pasta sauce, thin it out with some more water. Or oil, if you want to be all all crazy like that.
This makes about 6 Tbsp of pesto, which was plenty for 2 servings of potatoes. It would probably be enough for 2 servings of pasta as well, once you thin it out. I'll put that to the test sometime soon and report back.