Lemon Gem Cupcakes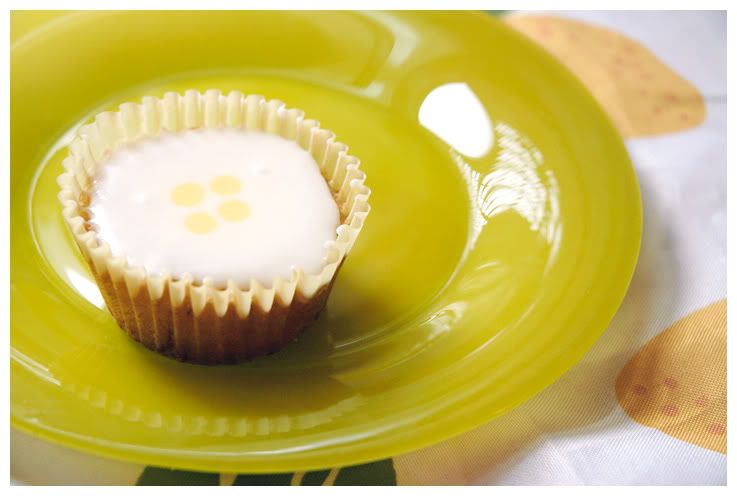 Today was packed with goodness. I woke up early and biked to the store, came home and made cupcakes, went to see (muthafuckin') Snakes on a (muthafuckin') Plane, had a Veronica Mars marathon with a friend (we've watched through episode 11 of season 1 and she's gleefully hooked!), and then watched Project Runway. Lots of fine entertainment, lots of sitting on my butt and eating cupcakes. Good times.
I decided to give the Lemon Gems from VwaV a whirl, as you can see. I've been eyeing this recipe since I got the book. I love lemony anything. It's easily one of my top 5 favorite flavors. And they didn't disappoint in that respect - they were absolutely packed with lemony goodness. So much so that I ate... four. Yes, four. Shame on me.
The only odd thing about this recipe is that they cupcakes didn't really rise at all. You'd think that they'd be quite lofty, given the proliferation of both lemon juice and baking soda, but that's no so. The batter is really thin, easily the thinnest cake-type batter I've worked with, and I wonder if maybe a bit of extra flour might have helped a bit. It's also possible that they're not supposed to rise much; Isa states in the book that they don't rise above the tops of the cupcake papers. But I filled my cups 2/3 full, just like the recipe said to, and many of mine didn't even come close to hitting the top of the paper - even with the icing on top.
That said, I did get 16 cupcakes instead of 12, so maybe I skimped a bit without realizing it. Overall I'd give this recipe two very enthusiastic thumbs up. Light, refreshing, and delicious. They're definitely daintier than your usual cupcake. And they match my lemon apron perfectly! I'll definitely make them again. I want to try it with oranges next time, or maybe limes.