Pineapple Coffee Cake + Sloppy Lentils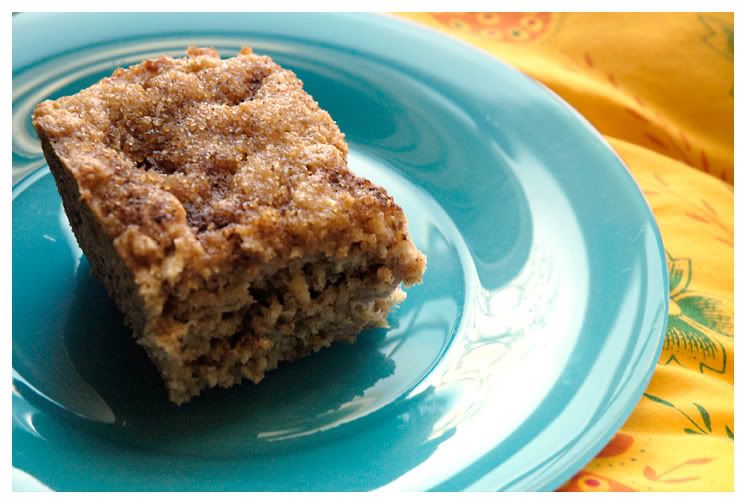 During the week I made this
Pineapple Coffee Cake
from the Fatfree Vegan blog. I'd been eyeing that recipe ever since Susan first posted it - I love coffee cake, I love pineapple, and her picture of it is so lovely. Plus it's whole wheat and low in points. So I had high hopes for this... and it met every expectation. It's wonderful. Moist, sweet, light, crunchy on top. Just delicious. My picture doesn't do it justice at all. (I'm having some issues with finding a good place to take pictures lately, what with the lack of sunlight.) I'll definitely be making this on a regular basis.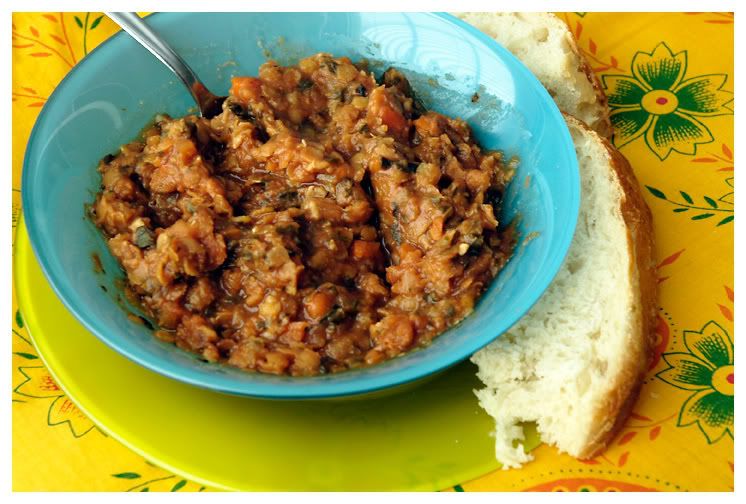 And here we have the famous Sloppy/Disorderly Lentils. Believe it or not, this was my first time making them. I don't really know what took me so long, but now I wish I'd tried them before - they're awesome! And super easy to make. I basically followed the standard recipe, with just a few tweaks:
Sloppy Lentils
2 c water
1 c red lentils
1 1/2 c tomato sauce
1 Tbsp soy sauce or tamari
2 carrots, finely chopped
1 onion, finely chopped
a few handfuls of spinach, finely chopped
3 cloves garlic, minced
generous pinch of crushed red pepper flakes
generous pinch of basil
1 bay leaf
salt and pepper to taste
Combine the water, lentils, tomato sauce, and soy sauce/tamari in a pot. Bring to a boil. Add the rest of the ingredients, stir well, and lower the heat to a simmer. Cover and cook, stirring occasionally, for 30 minutes. Season with salt and pepper to taste.
This made 4 servings for me, and I worked it out to about 3 points per serving. It's mostly zero-point veggies, so really the only thing to count for is the lentils.
I am pretty much in love with these right now. I had leftovers for lunch but I still want to make them again for dinner tonight. Yum.
The only other noteworthy thing I've made recently is the Eggnog Muffins from La Dolce Vegan. I was so excited for them - I love nog! I love muffins! Hell yes. Unfortunately I didn't like them at all. They were very bland and unpleasant. I actually threw them away. They rose well and had a nice texture, though, so I think the problem lies not in the recipe but in my sweet tooth. Or rather, the fact that I don't just have
a
sweet tooth - I have a full set of 32. So they may be sweet enough for other people, but for me they didn't really taste like anything. Gross.
Labels: baked goods, cake, lentils, recipes