Wednesday Menu 3/1 - Black Beans & Rice
Breakfast
Cinnamon Life with soymilk.
Snack
A clementine.
3 dried dates.
1/2 oz of almonds.
Lunch
Baked falafel, lettuce, and tahini in a wheat pita, with carrot sticks on the side. At this point you're probably asking yourself, "How much damn falafel can this girl eat?!?" A whole hell of a lot, that's how much. Usually I'm not keen on eating the same thing every day for a week, but falafel is an exception. Falafel is manna from heaven. It can do no wrong. It could very possibly facilitate world peace. I only have enough left for one sandwich, though. I might cry when I finish it.
Snack
A PBJ muffins. Because I'm a glutton for punishment and will eat things I don't like just so they don't go to waste. Plus I was having a wicked carb craving and there's not much else in the house that's carbtastic
and
doesn't require preparation. So. But it was still pretty gross. Time did these no favors.
Dinner
Black beans and rice, sweet potato fries, and half an ear of corn. The beans and rice was Zatarain's brand, which I love. I wish I could make beans and rice like that - thick and saucy and mmmmm. Anyone have a recipe? Maybe if I made it from scratch it wouldn't have that weird ham smell.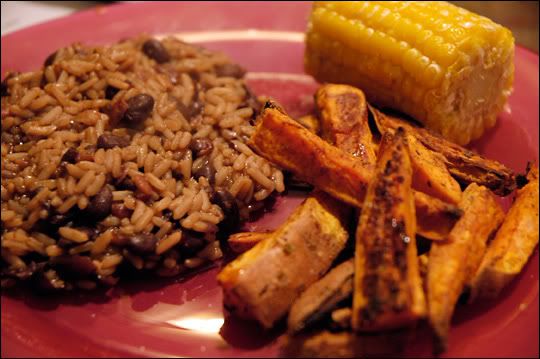 Snack
2 Tbsp of chocolate chips.
This is the first picture I've posted from the new computer, and I'm having some color issues. Does it look okay to you guys? Too dark, too light? Because I can't really tell. I need to go Google this phenomenon.