Sunday Menu 2/26 - Aloo Matar
Breakfast
Cinnamon Life with soymilk. I'm pretty zombie-like in the morning, but today was especially bad. I only had time for cereal before work.
Snack
1 oz. of almonds.
A clementine.
Lunch
Baked falafel with lettuce and tahini sauce wrapped up in a piece of naan with baby carrots on the side. So basically a duplicate of last night's dinner, except with 4 falafels instead of 6 and the naan was onion flavored this time. Yum.
Snack
6 dried dates.
Dinner
Aloo Matar. Delicious as ever.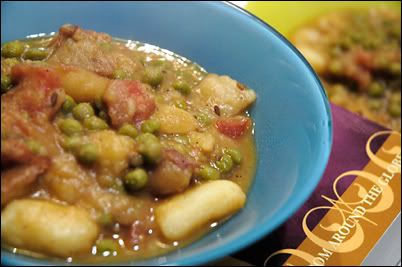 Snack
The other half of that toasted almond tropical source bar from yesterday. You know, back in the day (which was a Wednesday) this stuff would've tasted so bitter. But my tastes have definitely changed, because now it's mild and creamy and nearly milk chocolate-esque. I may need to pick up another one of these this week. I've been wanting to try the one with crisped rice.