Thursday Menu 2/23 - Spicy Peanut Noodles and Roasted Green Beans
Breakfast
A caramel nut brownie Luna bar.
Snack
A coconut cupcake.
Lunch
A hard-shell taco from Seniorita Burrita (tomato basil rice with vegetarian chili and salsa were the fillings of choice this time) and some baby carrots.
Dinner
Spicy Peanut Noodles and roasted green beans.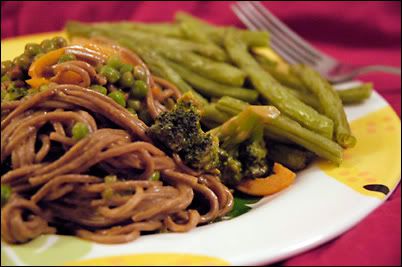 Snack
1 date.
A clementine.
1 fudge-mint cookie.
9 little squares of Maya Gold chocolate.
I wanted to post the samosa filling and coconut cupcake recipes today, but I had school and then The Boy and I went out to run some errands and now I'm going to watch Law & Order SVU for a while instead of posting recipes because I am a lazy bitch. But I am going to be posting them tomorrow for sure, so... stay tuned.