Saturday Menu 2/25 - Baked Falafel
Lunch
Parsley potatoes and tempeh bacon.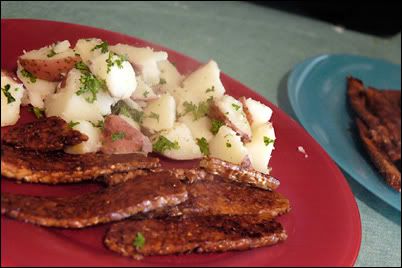 Snack
The last coconut cupcake. Yum.
1 oz. of almonds.
3 dried dates.
A clementine.
Dinner
Baked falafel, lettuce, and a little tahini sauce wrapped in a piece of naan, with some baby carrots on the side. Man, I love falafel. Of course it's better fried (what isn't?), but even baked it's delicious. This is the first time I've had it with tahini sauce - I used the recipe from
Vegan with a Vengeance
. The whole thing was just seriously yummy. My standard falafel recipe is based on
this recipe
from VegWeb.
Snack
1/2 of a toasted almond Tropical Source bar. I didn't actually need all this, but I just really enjoy shoveling chocolate into my face.