Chili, Cupcakes, Cake, and a Cat!
Joanna's Better Than Basic Veggie Chili, a tester recipe. It's pretty fantastic. I made some cornbread to go with it, and the combination made for several days of enjoyable meals.
Pink lemonade cupcakes! Well, that's what they were supposed to be, anyway. I pinked up the batter, but it didn't bake that way. Very annoying. The cupcakes are the basic golden vanillas from Vegan Cupcakes Take Over The World with some lemon extract thrown in, and the frosting is the lemon cream cheese recipe from the same book. That frosting is AMAZING. Seriously, it's worth typing in all caps for. I took these to my family's easter shindig and they were a big hit. Even my dad liked them, and he's been known to have heart palpitations at the mention of soy.
A pink lemonade mini cake made from leftover cupcake batter and frosting. For some reason these little cakes baked up a lot pinker than the cupcakes. Maybe because I used silicone pans? Who knows. Either way, it was cute and tasty. Forgive the shoddy frosting job. I was pretty tired of it at this point and there wasn't enough frosting left to do it up right.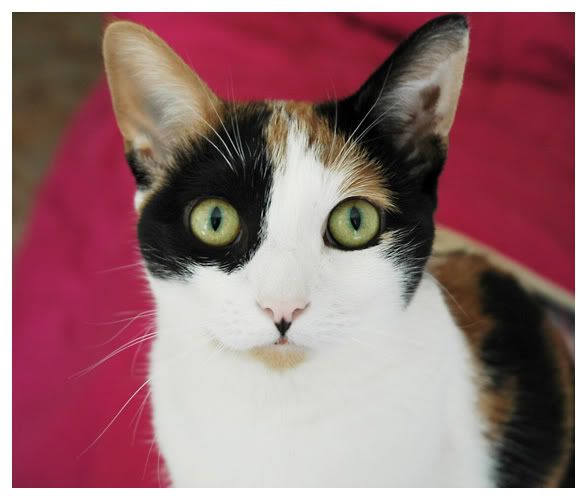 And finally, this my kitty getting her stare on. Obviously she is not food, but I thought I'd post it anyway. Her eyes stare directly into your soul. Can you feel it? I know I can. What you probably can't get a sense of from this picture is how damn annoying she is. For real, she drives me crazy. Crazy, I tell you! It's a good thing she's cute.
Labels: baked goods, cake, chili, cupcakes, sweets, yellow rose recipes