Chocolate Macadamia Nut Cookies
First things first: if you are dieting or watching what you eat in any way, do not make these cookies. I repeat, DO NOT MAKE THESE COOKIES. You
will
regret it.
For the record, I don't usually like chocolate chip cookies. But chocolate macadamia nut is the boy's favorite, and tomorrow is his birthday - so, chocolate macadamia nut it is. I pulled out
Vegan with a Vengeance
(aka the best cookbook ever) and modified the Chocolate Chip Cookies to suit my needs. Which basically means that I cut the recipe in half (because 36 cookies / 2 people = a very bad situation) and threw in about a cup of chopped macadamia nuts. I only put in 3/4 cup originally, but it soon became apparent that if the rest didn't go into the cookies they were going to go into my mouth.
The result? 22 delicious, buttery (well, margariney) cookies. There would probably have been 24 if I'd managed to keep my hands out of the dough. And therein lies the problem with these little beauties. I don't much like cookie dough, as a rule. Even vegan cookie dough, which, being egg-free, is practically begging to be eaten. I mean, listen for a second. Do you hear that?
It's asking for it.
But this cookie dough... oh my. Add in the chocolate and macadamia nuts and really, how could I resist? So I ate a bit. And then a bit more. And then I ate an actual cookie, all warm and gooey from the oven. And then I drooled all over myself and had to take a shower.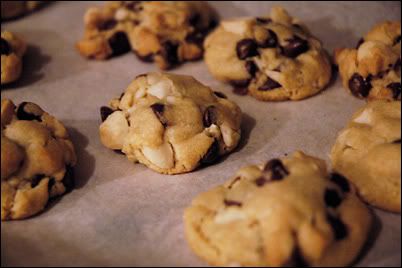 I short, these cookies are the shit, and Isa is my hero. However, my hips curse her name. They're just so touchy that way.