Greek-Style Green Beans
So to make up for tonight's cookie dough indulgence, I made a very virtuous dinner, at least by my standards. No grains or pasta or potatoes. And I'm a certified carbaholic, so that's an accomplishment. No, tonight it was all veggies, all the time. I had green beans and tomatoes lying around from my trip to market on Friday, and some cubed butternut squash (still raw) leftover from Friday's risotto-making. There was only one thing left to do.
Greek-Style Green Beans
1/2 pound green beans, prepped and washed
1 ripe plum tomato, chopped
1-3 cloves of garlic, minced
1 tsp to 1 Tbsp olive oil
Heat the oil in a large skillet over medium heat; add garlic and brown just a smidge. Add the green beans and tomatoes, stir, then turn the heat down to low and cook, covered, for 30-40 minutes. Season with salt and pepper, and enjoy.
Serves 1.
Original recipe is from Crescent Dragonwagon's
Passionate Vegetarian
, but I've modified it to suit my tastes.
(Adjust amounts as you see fit - I don't love tomatoes, but I do love garlic, so I only use one tomato but use all 3 cloves of garlic. I usually make this with just a teaspoon of oil, and cook it for as long as it takes for the green beans and tomatoes to really carmelized. Seriously, it's amazing.)
All shiny and new and just going into the pan.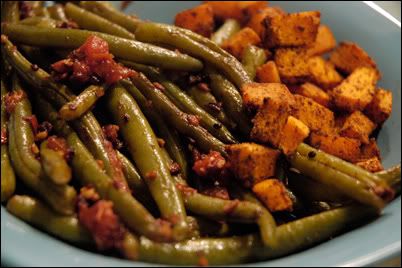 Greek-Style Green Beans and roasted butternut squash. Delicious.