Progress Report / Kitty Blogging
As month one of Operation: Stop Being Such A Fatty (Oh, And Eat Healthier Too) (which will henceforth be known as Operation: Lard Out, because change is good) draws to a close, it's time to examine what I've accomplished over the last four weeks.
I kept the two pounds from last week off, so overall I'm down 6 pounds. My BMI has dropped 1.2 points. I've only baked once, which is pretty much a record for me since I used to bake twice a week or more. And the one time I did bake didn't become a major deal. I didn't eat 12 cookies at once. I'm learning to handle junk food and snacks and food in general in a way that I never could before. I can have a cookie or two and that's enough. I can have one tablespoon of chocolate chips and be completely satisfied with that amount. It takes less food to fill me up, and I'm enjoying real, healthy food just as much if not more than junk food.
It's been a good month. I'm looking forward to the next one.
---
And now, a break from out regularly scheduled food blogging. It snowed las night, and now there's a thick white blanket over Lancaster. My kitty, Miss Scarlet, was quite intrigued by this new development.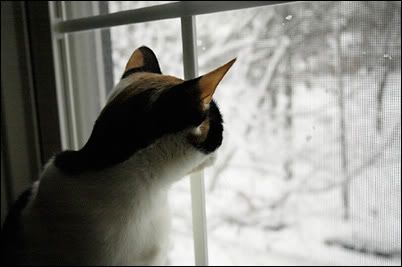 Checking out the snow.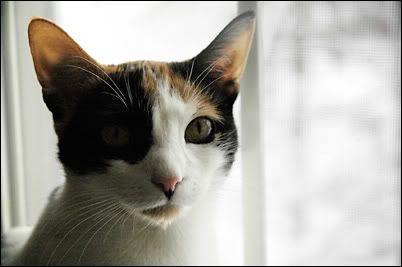 Kitty face.



And... the full body shot.