Wednesday Menu 2/8 - Grilled PB & Banana Sandwich
Lunch
A grilled peanut butter and banana sandwich on multigrain bread and a smorgasboard of fruit (banana, fresh pineapple, red grapes, clementine segments).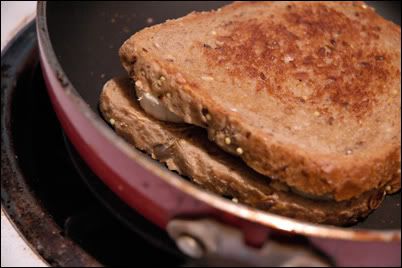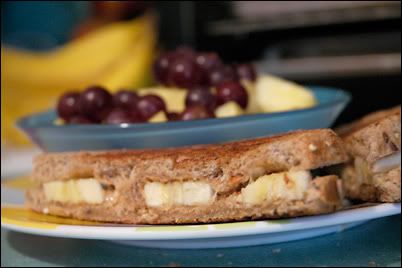 Snack
A huge, delicious Fuji apple. Yum.
1/2 oz. of almonds.
A double berry smoothie (strawberries and blueberries) with flax. It was such a pretty color that I couldn't resist taking a picture.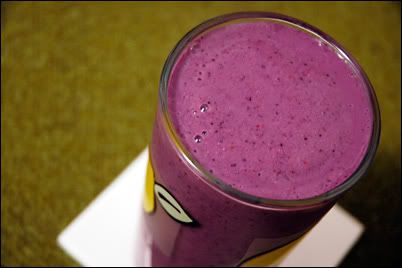 Dinner
Leftover Red Lentil Dhal and a piece of naan.
Snack
2 fudge-mint cookies.
Reason #27 why I'm very stupid: I choose the morning after fried food to weigh myself. Really, I don't even know what I was thinking. I weigh myself "officially" on Sundays, but I can't help hopping on a few times during the week if I'm in the bathroom in the morning. The scale just stares at me, all mocking, like "so how fat are you today, beeyotch?" I'm so weak.
When I weighed this past Sunday I was down 2 pounds. I know part of that was the sharp decline in my ability to eat for a few days, but I figured that if I just kept on doing what I've been doing then it should stay off. Right? Well, yeah, probably, but then I had to go and hop on the scale this morning after what I can only assume is a high-calorie meal at Burger Night last night. And of course it told me I had gained both of those pounds back. Fun! So I'm feeling a little crappy, even though I know weight fluctuates and it was a stupid time to weigh myself and blah blah blah.
But whatever, I'm just going to keep on keepin' on. (I'm pretty sure I just channelled my mom for that one.) Hopefully things will work themselves out in a positive way by Sunday.