Friday Menu 2/17
Breakfast
About half of a really gross, mealy Fuji apple and a piece of cornbread. I'm not very good at picking out apples - I think that's going to be The Boy's job from now on. He's got skillz in that department.
After discovering that my apple was bad, I took the next logical step and ate 2 pieces of chocolate. Strawberry and lemon creme. When the box is gone there will be no more chocolate for breakfast, I promise.
Snack
The last two pieces of chocolate. A vanilla creme and another hazelnut thing. There, it's done. The danger has passed. INTO MY TUMMY. Seriously, I don't know what it is about these things. I can handle cookies. I haven't touched those Smacker things. I've had a bar of Maya Gold in the cupboard for a few weeks and I haven't even unwrapped it. But these things are like little nuggets of crack. Ugh.
Lunch
Sweet and sour seitan stir-fry and leftover sushi rice. Very easy, very tasty. I am seriously in love with this seitan. If there was a Church of Isa I would worship at it. In fact, I'm not sure why there isn't. Let's get on that, vegans.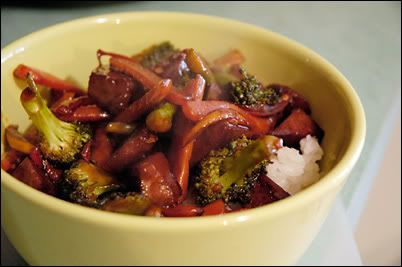 Dinner
Baked beans and cornbread. I didn't feel like cooking anything after work.
Snack
Baby carrots.
2 fudge-mint cookies.