Tuesday Menu 2/21 - Potato-Green Pea Samosa Filling
Breakfast
Cinnamon Life with soymilk.
Lunch
A hard-shell taco from the burrito place across the street from my school. The filling was chipotle rice, black beans, lettuce, and their amazing fresh salsa.
Snack
About 3 Tbsp of chocolate chips, because my mouth is a sucking vortex of badness.
A piece of wheat bread with a smidge of Earth Balance.
Dinner
Potato-Edamame filling from the samosa recipe in
Vegan with a Vengeance
, except with peas instead of edamame and with some tamarind-date sauce. Oh, and I didn't peel the potatoes. This is seriously good stuff. I've made the samosas themselves before, but the filling is super delicious and definitely worthy of eating plain. Plus it's less work. The tamarind-date sauce is freaking amazing and comes courtesy of my local Indian store. Oh, Ohm Indian Grocery. How did I ever live without you?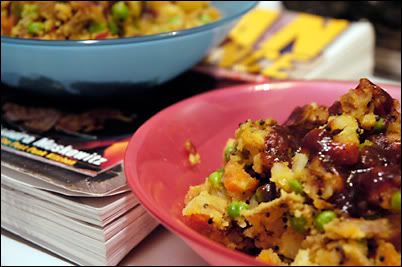 Snack
2 fudge-mint cookies.
Good news: those chocolate chips have a few fewer calories per tablespoon than I thought, and now the bag is gone so I can't eat anymore. Bad news: The bag is gone because I ate the whole thing. That's 1,610 calories of pure chocolatey evil. It's like I invented an 8th day just so I could eat my way through it. Awesome.
Today was actually fine, though. Maybe even a little on the low side, which, given my recent chocolate feeding frenzy, can only be a good thing.