Sunday Menu 2/19 - General Tao's Seitan
Breakfast
2 slices of bread with 1 teaspoon of Earth Balance and a clementine.
Snack
1 cup of Cinnamon Life, dry.
1 Tbsp. of chocolate chips.
1/2 oz. of almonds.
Lunch
A strawberry-banana smoothie with flax, plus 6 dried dates stuffed 1 almonds each.
Snack
1 slice of wheat bread with a little Earth Balance.
Dinner
General Tao's Seitan with broccoli and rice. YUM. That's all I have to say. I modified
this recipe
from VegWeb.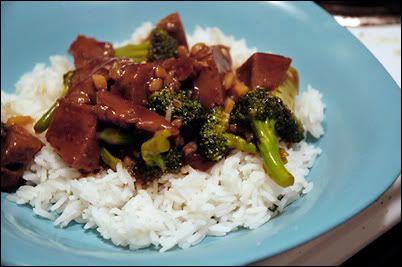 Snack
Almond butter Smacker. I like this one better than the peanut butter kind.
1 Tbsp. of chocolate chips
1/2 oz. of almonds.
2 fudge-mint cookies.
Yeah, so... the snacking is getting out of control. I don't even know why. I'd like to blame my period. It would be make me feel less like a loser. Unfortunately it's probably just me being lame and stuffing my face with chocolate chips for no reason other than that they taste good.
So I'm going to split the blame. Half menstrual craziness, half regular old being a fatty. It happened. Whatever. Chocolate chips do not rule my life. That's what I need to keep telling myself: I am not Food's bitch. I wear the very large pants in this relationship.
Anyway. This weekend sucked. Hopefully this week will be better. No, scratch that. This week definitely fucking
will
be better. Take that, chocolate chips. What makes you think I won't cut you?
(Please excuse me. I need copious amounts of sleep, like, yesterday.)