Sunday Menu 2/12 - Home Fries and Sushi
Breakfast
Home fries (chopped red potatoes, orange peppers, and red onions sautéed in 1 tsp. of olive oil and seasoned with salt, pepper, parsley, cumin, chili powder, and oregano) and a Fuji apple with 1 Tbsp. of natural peanut butter.
Lunch
Leftover Baked Aporridgy, red grapes, a clementine, and 2 chocolate Earth Balls. Okay, so this stuff was good yesterday... re-heated, not so much. The slight gumminess pretty much turned into paste. If I make it again, I'll halve the recipe. It doesn't make for good leftovers.
Dinner
Sushi! I pretty much just followed
this tutorial
, and after one or two botched rolls (which you will not, of course, see below) I got the hang of it. The filling was marinated and sautéed tempeh and carrots. It was pretty tasty, I have to say. And surprisingly filling for its size. I'm taking leftovers for lunch tomorrow. I hope sushi keeps better than the porridge paste from yesterday.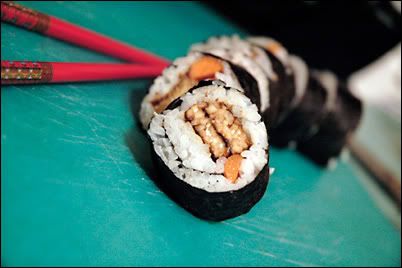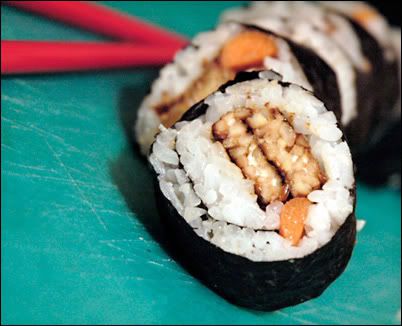 Snack
1/2 oz. of almonds.
1 1/2 Tbsp. of chocolate chips.
2 fudge-mint cookies.
I was feeling very snacky this evening for some reason. I think because the sushi, while filling, just wasn't very satisfying for some reason. I think it'll make a better lunch than dinner.