Wednesday Menu 2/15 - Seitan and Cornbread
Lunch
A Fuji apple spread with 1 Tbsp natural peanut butter.
A marzipan chocolate. You know, pre-this piece of candy, I thought that I didn't really like marzipan. Apparently I was wrong.
Snack
2 more pieces of chocolate. One had a chocolate ganache filling, maybe with a hint of coffe flavor. The other had sprinkles on top and a chocolate truffle-esque filling with little crunchy bits. Mmmmmm.
Also, 1 Tbsp of chocolate chips. If you don't here from me again, it's because I died of chocolate poisoning. Seriously though, I'm starting to feel sick. No more chocolate.
1 oz. of almonds.
A banana.
The giant period of snacking in there is because I ate lunch at 12 and then didn't have dinner until 9.
Dinner
Barbecue seitan, baked beans, and cornbread. Yum.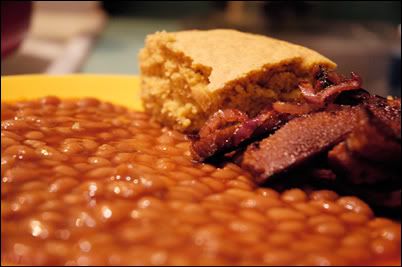 A veritable sea of beans.
Snack
2 fudge-mint cookies.
Yet another piece of chocolate. A hazelnut heart this time. So good.
Okay, there was just
way
too much chocolate going on today. I'll be really happy when this box of evil is gone. Except that for that to happen I have to eat it all. Every delicious morsel. Darn.
I'll post recipes for both the seitan and the cornbread sometime soon, but right now I have homework that needs done. Lame.