Tuesday Menu 2/14 - Chocolates!
Breakfast
Blueberry-mango smoothie with flax.
Lunch
Spicy Peanut Noodles, fresh pineapple, and red grapes.
Snack
3 delicious vegan chocolates from
Rose City Chocolatiers
. The Boy ordered me a box of them from Vegan Essentials, along with two other treats. The chocolates are amazing. I had a hazelnut cream, a pistachio marzipan, and a rose city mint. All delicious. This thing is like Pandora's box. Chock full o' danger. But damn does it taste good.
The other goodies are these Smackers patty things. Almond or peanut butter + chocolate = oh hells yes. I won't be eating these today, though.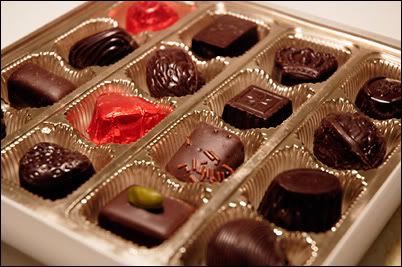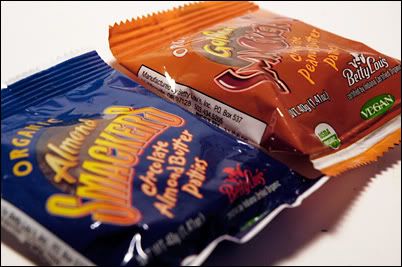 Dinner
Samosas, aloo mutter, saffron basmati rice, and naan at Passage to India. Pretty much the best meal ever.
Snack
Another piece of chocolate. This one was a double hazelnut thing. Hazelnut "creme" and whole nuts as well. So good. I heart hazelnut everything.
So today was kind of heavy, food-wise. Eating Indian out does that to me. I guess because we only do it once every few months I just feel the need to stuff as much goodness in as I possibly can. I'm not beating myself up about the chocolates, because it's Valentine's Day, dammit! And the best way to say "I love you" is to gorge yourself on candy.
And now here's a picture of a cat wrapped up in a blanket. What? Don't act like I need a reason.