Thursday Menu 2/16 - Gobetti All'Arrabbiata
Breakfast
A piece of cornbread, a Fuji apple, and 1/2 oz. of almonds.
Lunch
3/4 cup baked beans, another piece of cornbread, and baby carrots.
Snack
3 pieces of chocolate - a cherry cordial, a mandarin creme, and a hazelnut crown. Oddly enough the mandarin was my least favorite. I don't usually like cordials, but this one wasn't bad.
Dinner
Gobetti All'Arrabbiata from
Fatfree Vegan Kitchen
. The recipe calls for penne, but I didn't have enough for two servings so I subbed whole wheat gobetti. Whole wheat pasta gets a bad rap sometimes, but I like it just fine. I usually get the Bionaturae brand from the health food store, but I've never had a whole wheat pasta I didn't enjoy. Other alterations I made to this recipe: I halved it to make just two servings, cut the amount of dried red pepper in half again (so just 1/4 tsp - we're kind of wimpy with spicy stuff), used fresh plum tomatoes, and just mashed them a bit with ye olde potato masher while they cooked rather than pureeing them. It was a quick and tasty dinner. Two thumbs up.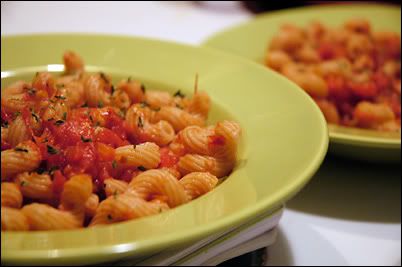 Snack
Another piece of chocolate. A hazelnut shell thing.
2 fudge-mint cookies.
I have eaten 463 calories worth of chocolate and cookies today. The bright side is that I still only ate about 1,500 calories. The downside, is, of course, that 30% of those calories came from junk. Note to self: work on that. But yay me for having my chocolate without breaking the caloric bank, anyway.