Quick Black Bean and Sweet Potato Chili + Cornbread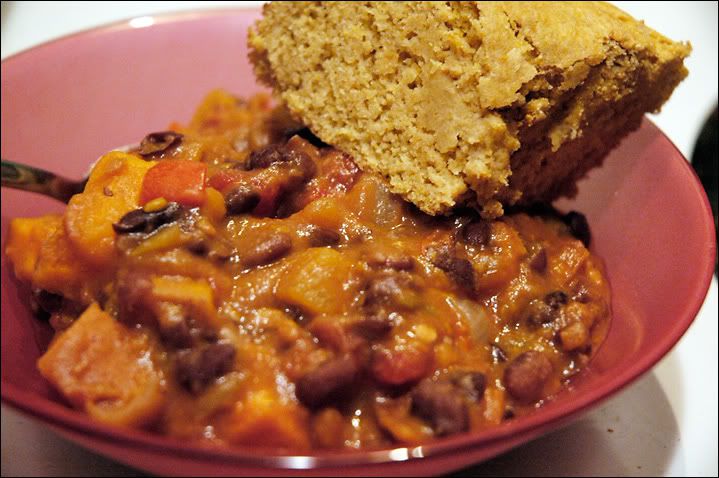 First things first: this dish is U-G-L-Y, it ain't got no alibi, it's ugly. Yeah, yeah, it's ugly. It may not look so bad in the picture, but when I reheated some today I was struck by just how unattractive stew-type dishes can be. But it still tastes good! Especially with a hunk of cornbread. (I made
this cornbread
, as usual. I found the perfect balance of health and taste when I made it last night, so that recipe has been updated to reflect the new ingredients.)
Quick Black Bean and Sweet Potato Chili
Recipe from Nava Atlas'
The Vegetarian Family Cookbook
2 medium-large sweet potatoes
2 tablespoons light or extra-virgin olive oil
1 cup chopped onion
2 to 3 garlic cloves
1 medium red bell pepper, diced
One 32-ounce can black beans, drained and rinsed
One 28-ounce can diced tomatoes
1 or 2 small fresh hot chilies, minced, or one 4-ounce can chopped mild green chilies
2 teaspoons ground cumin
1/2 teaspoon dried oregano
Salt to taste
Bake or microwave the sweet potatoes on high until just firm, about 3 to 4 minutes per potato. When cool enough to handle, peel and cut into 3/4-inch dice. Set aside.
Heat the oil in a large soup pot. Add the onion and garlic and sauté over medium heat until golden. Add the bell pepper, beans, tomatoes, chilies, cumin, and oregano. Bring to a simmer. Cover and simmer gently for 15 minutes. Add the sweet potatoes and continue to simmer until the vegetables are tender, 10 to 15 minutes.
Season lightly with salt. If time allows, let stand off the heat for 1 or 2 hours, then heat through as needed.
Serves 4-6
My Changes:
Instead of baking or microwaving the sweet potatoes, I diced and steamed them for approximately 10 minutes. I also left the skins on. I only used 1 Tbsp of oil, left out the oregano because I didn't have any, and threw in some chili powder. I mistakenly put the sweet potatoes in with all of the other ingredients instead of separately, but it turned out to be a good thing because they would never have finished cooking in that last 10-15 minutes.
Nutritional Info:
305 calories, 3.6 g fat (0.6 g saturated fat), 17 g fiber, 13.4 g protein @ 5 servings.