Exercise Stuff + Evil Chocolate Cake
When I disappear for a few days - from the blog, that is - it usually means that I either haven't had the time/inclination to cook much or that I've been slacking off on the diet/exercise front and don't want to face up to it. Well, this time it's a little bit of both. My work schedule has been such that I haven't been home for dinner, and not cooking much. I've been eating very randomly, erring on the side of not enough (check hell for snowcones!)... until last night when I decided to bake a cake. Now I have eaten four - yes, FOUR - pieces of cake in the last 24 hours. Luckily there are only three left, so one way or another this delicious menace isn't long for the world.
And I seem to have been struck by a disease that renders me incapable of waking up in the morning, which has put a serious kink in my workout schedule. I've only gotten in two runs and one strength training session this week. Bad. It's still more than I ever used to do, though. And I completely changed up my strength training routine, so I've been sore for the last three days. You don't realize quite how accustomed you get to doing certain exercises until you try something different and then find that you can't lift your arms over your head without crying the next day.
Also! I got a stability ball. It's pretty exciting. I wanted it specifically for ab stuff, because I want to do more ab work but doing it on the floor really hurts my tailbone for some reason. Possibly because it's a floor, and therefore hard and uncomfortable. Or it could be something else, who knows. Anyway, I'll definitely use it for ab stuff, but I think it's going to add a lot to my workouts in general. It's a lot of fun to just roll around on too.
And now I leave you with this delicious piece of cake, because this is a food blog after all.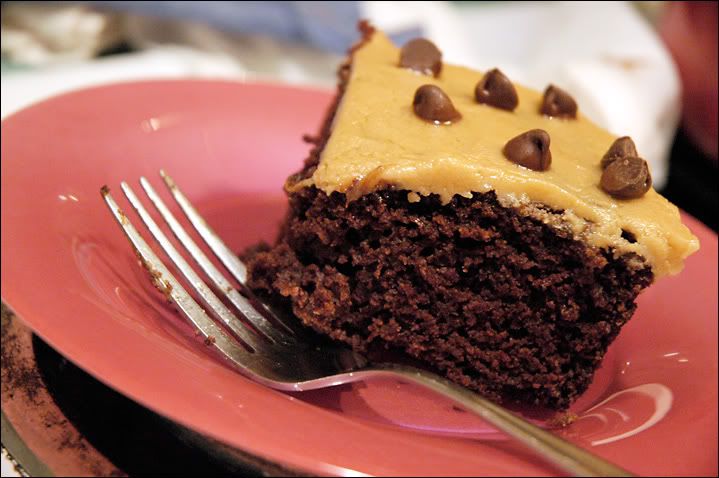 P.S. Don't frost the cake with peanut butter frosting when it's still hot. Your lovely peanut buttery fudgey frosting will turn into weird, melty, tummy-upsetting stuff. Don't fret, though. A night in the fridge will mostly fix it.
This cake is your standard Wacky/Crazy Cake plus the peanut butter frosting from
Veganmania
.