Sun Tea, Fruitapalooza, Moong Dal + Samosas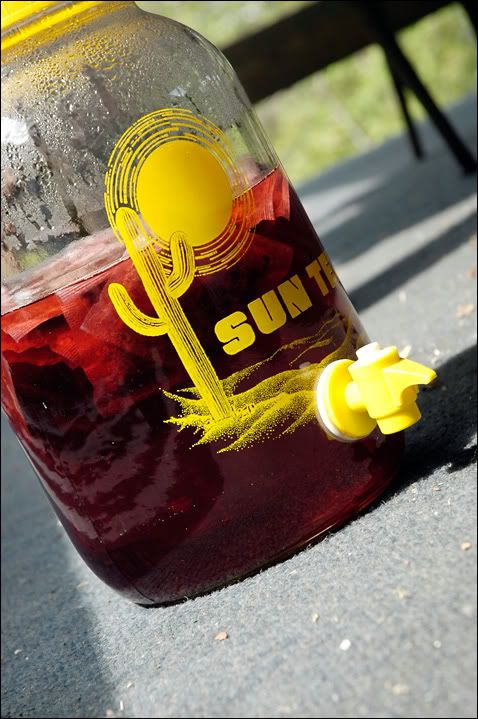 Blueberry sun tea a-brewin'. There's just something about sun tea that tastes better than regular iced tea. Vitamin D? Melanoma? Nostalgia? That all-important secret ingredient, love? The world may never know.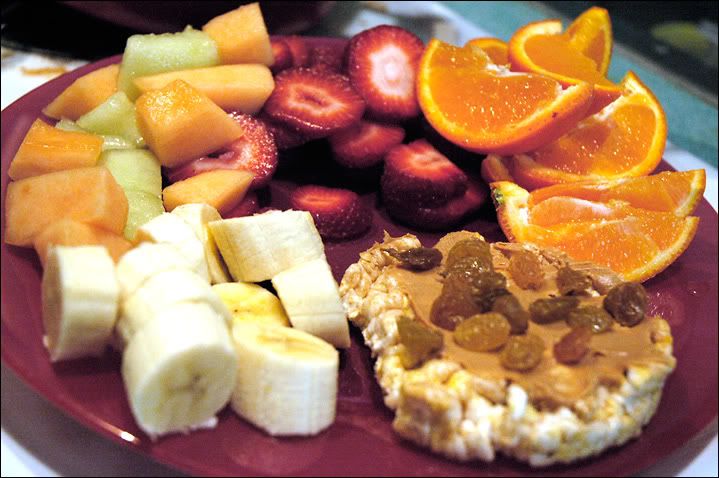 Lunch! Pretty self-explanatory, I think. Banana, cantaloupe, honeydew, strawberries, a tangelo, and a rice cake with peanut butter and raisins. Normally I wouldn't take a picture of something like this, but fruit is just so pretty.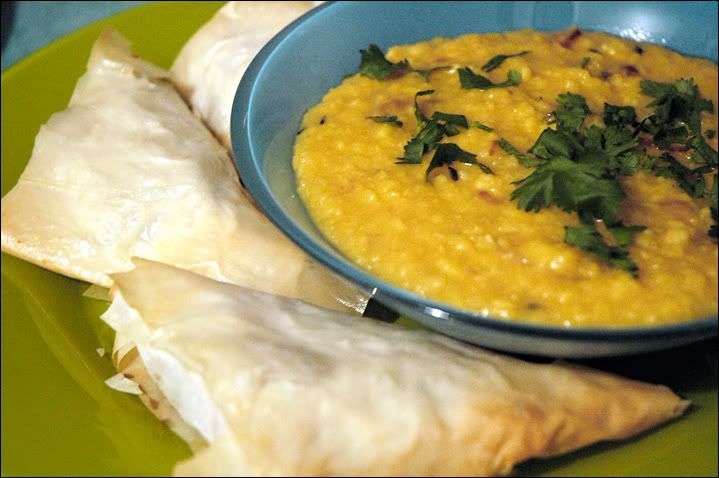 Moong Dal with Browned Onions from
World Vegetarian
and Potato-Green Pea Samosas from VwaV. I never feel like making the dough to go with those, so I've just been using phyllo. Not quite as good, but definitely quicker. This was my first time using moong dal, and I was pretty excited because I've had a bag cooling in the pantry for months. It was good - a bit bland, but in a creamy, comforting sort of way. It was extremely filling as well. And it's a great color, if I may take a moment to be completely superficial. I don't know if this particular dish will become a staple, but I'll definitely be experimenting more with moong dal.
Operation: Shake That Ass Update:
Ladies and gentlemen, I am pleased to announce that I ran for 20 minutes straight today. Twenty minutes! Five weeks ago I couldn't run for two minutes. So yeah, I'm pretty proud of myself right now. I feel like exercise is becoming less something I have to do and more something that I actually
want
to do. Unfortunately the scale is still not giving it up, and I'd be lying through my teeth if I said it didn't bother me. But I just keep reminding myself that these things take time. Slow and steady wins the race. Insert motivational platitude here.
I may start keeping track of my food again, just for a week or so, to see if I can determine what the problem is. Either I'm not eating enough or I need to cut out my evening chocolate chip habit. I'd pretty much bet my life on the latter, but oh, to dream! I don't think under-eating has ever been a problem in the 22.85 years I've spent on this planet.