Catching Up + Pants Rant
Contrary to what the lack of updates here would lead you to believe, I
have
been cooking - and taking pictures. It's just that, for the most part, what I've been cooking hasn't been that exciting. Simple things. Variations on a theme. But I thought I'd post them anyway, because... well, because.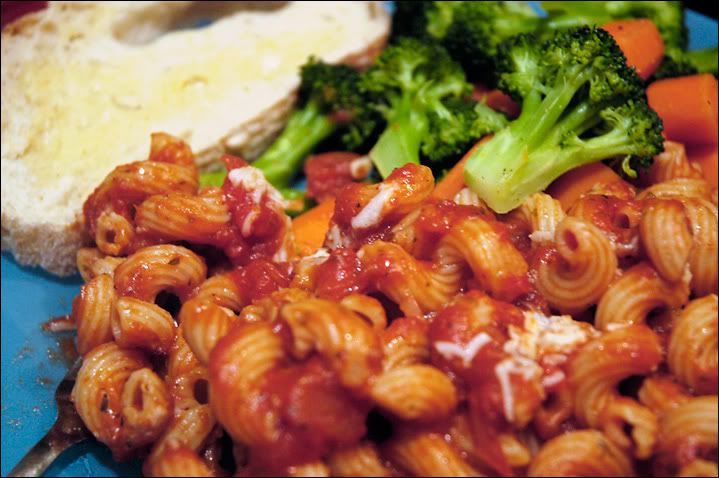 Baked pasta with Vegan Gourmet mozzarella, plus steamed broccoli and carrots. Also a slice of "garlic bread," read: toast with Earth Balance and garlic powder because I didn't have any roasted garlic hanging around.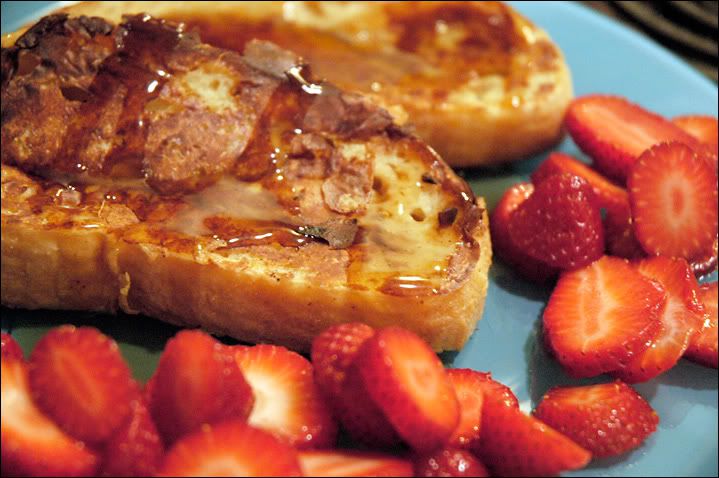 Peanut butter french toast with shameful "pancake syrup" and sliced strawberries. Peanut butter french toast is so easy: whisk together some soy milk, creamy peanut butter, a little flour, and optional vanilla and cinnamon. Dip bread. Cook. Eat.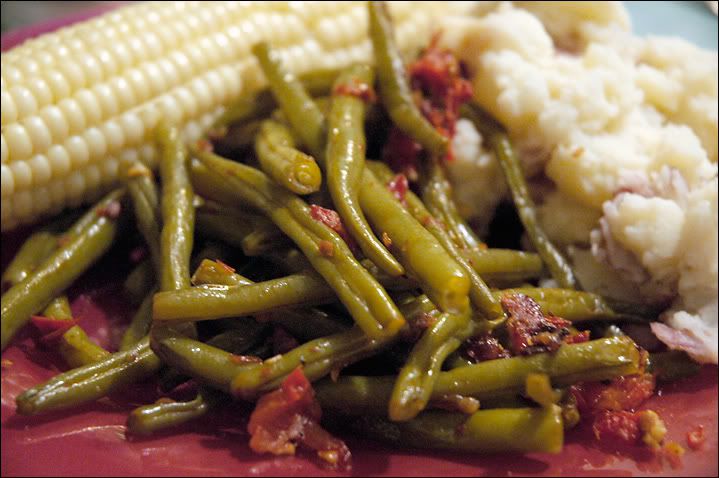 Greek-style green beans, mashed potatoes, and corn. Best green beans ever, no contest.
Leaving food aside for a moment, can I just ask: why have low-rise pants taken over the world? Seriously. I'm not totally averse to the low-rise. They look much better than high-waisted mom pants (no offense to any stylish moms out there, but my mom wears 'em, so to me they're mom pants). But I do take issue with the sort of low-rise pants that introduce strangers to your pubic hair, and it seems as if it's getting harder and harder to find any sort of middle ground.
I was at Old Navy yesterday looking for some new jeans. I hate hate hate shopping for pants. It's impossible. And the proliferation of low-waisted pants is not helping things at all. Old Navy claims to offer 4 rises, but I could only find two: low-waist and ultra low-waist. The latter is just not an option for me, which is unfortunate because all of the jeans I liked were of this variety. But awesome love handles + ultra low-waist = nausea, disorientation, and possibly blindness. So, no. I tried on like 6 pairs of pants, found three that would sort of work. I say sort of because the low-waist requires constant adjustment, so even if they fit well I'm forever pulling them up over my pudge. Because with mom pants your rolls get pushed up, but with low-waisted pants everything just kind of spills over the top.
And on top of this, it seems that there is a gang of stumpy girls roaming around buying all the 14 shorts just before I arrive at the store. Luckily I only bought one pair of full-length pants, and I did manage to dig a short pair out of the entrance to Narnia that is the back of the rack. On the plus side, that pair was on super sale and I managed to find two pairs of capris that are actually the right length. Mostly because they're supposed to be bermuda shorts, but I'll take what I can get. They still suffer from low-waist overflow, though.
Man, I just went on for way too long about pants.