The Secret Ingredient Is Evil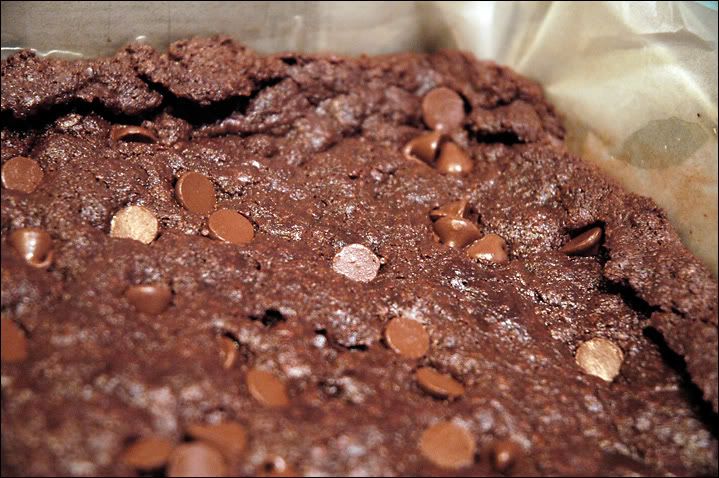 These look good, right? Warm, delicious brownies? Well, not so much. They tasted okay, but they stuck so badly that I just threw the whole batch away because I didn't feel like trying to pry them off of the wax paper. I managed to scrape some of the insides out - we ate the chocolatey guts with Soy Delicious Turtle Tracks. Yum. I won't be making this recipe again, though.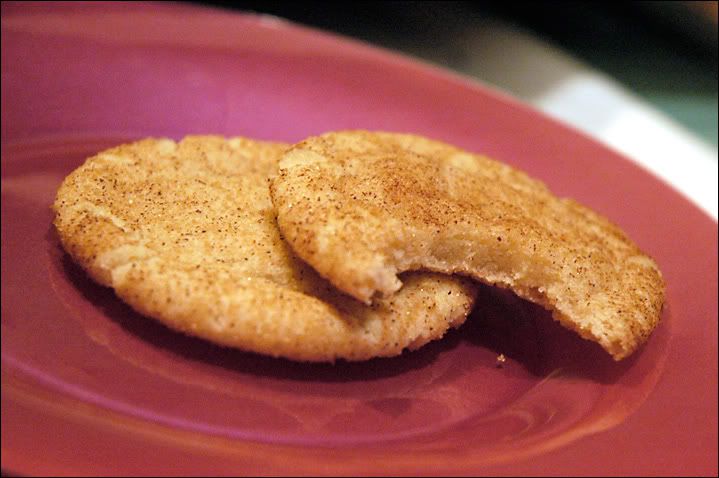 Today I made snickerdoodles in honor of
Veronica Mars
getting picked up for a 3rd season by The CW. This is appropriate because V makes Wallace snickerdoodles in the season one episode "Betty and Veronica." Of course I didn't listen to stolen police interrogation tapes while I made mine, but she used eggs so I think the cool points even out in the end. Ahem. Anyway, I used Kreeli of
VeganMania
's recipe, which I'll repost here since her site is down at the moment.
P.S. I gave some of these to a friend who had never even heard of a snickerdoodle until I said I was going to make some. WTF? How do you get through 23 years of life without ever having a snickerdoodle? Or even hearing the name? Error. Error. Does not compute.
Perfect Vegan Snickerdoodles
Recipe by
Kreeli
1 cup margarine
1 1/2 cups granulated white sugar
1 tsp vanilla
4 tbsp soy milk whipped with 2 tbsp cornstarch
3 cups unbleached white flour
1/2 tsp salt
1 tsp baking powder
1 tsp tapioca starch or cornstarch
2 tbsp cinnamon
4 tbsp granulated white sugar
1 tbsp cocoa powder (optional)
Preheat your oven to 300 F.
In a large bowl, cream the margarine and sugar together until smooth. Add the vanilla, and the cornstarch/soymilk mixture, and beat until well-mixed.
In a smaller bowl combine the flour, baking powder, salt, and tapioca/corn starch. Stir this into the wet ingredients and combine well.
In a very small bowl stir together the granulated sugar, cinnamon and cocoa powder (if desired).
Begin rolling the cookie dough into balls of about 3 tbsp each. Roll each ball in the cinnamon/sugar/cocoa powder mixture until completely coated and place on an ungreased baking sheet. Continue until all the dough is used up. Using the bottom of a glass, press down on each ball until they are about an inch thick. Bake for 12 - 14 minutes, and no more. The cookies should still seem very soft when you remove them from the oven. Let cool on the pans for about 10 minutes, and then transfer to a wire baking rack and let cool completely.
Makes about 30 cookies. This recipe can be halved, if desired.
Notes
: I like mine on the crispier side, so I baked them for 14 minutes. These are seriously addictive, so be warned.