Playing Catch-Up
First things first: I've been totally remiss in my posting lately, I know. Things have gotten in the way. Work. Apathy. Heat. But mostly work. Tuesday was the first day I've had off in a week, and I closed most of the days I worked - which means no dinner, and nothing to post about. I really hate that. They make me close all the goddamn time, which fucks up my day like you would not believe. I love how I've worked there for over a year and I'm still at the bottom of the totem pole. They really need to hire someone else so I can stop getting stuck with the shifts no one else wants.
ANYWAY. I suck, Michael's sucks, summer sucks. But I have actual content this time to make up for it! Behold: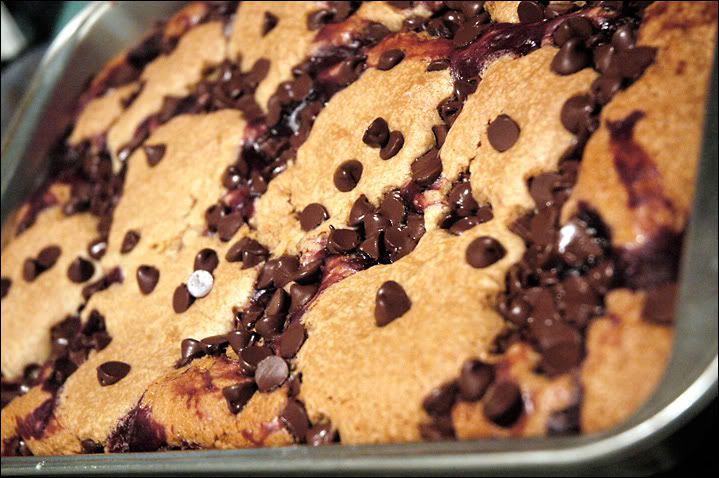 Raspberry Chocolate Chip Blondies from VwaV. These things are so ridiculously good. It's unreal. People who normally won't touch my desserts dive right in and eat these with wild abandon. 100% picky omnivore-approved.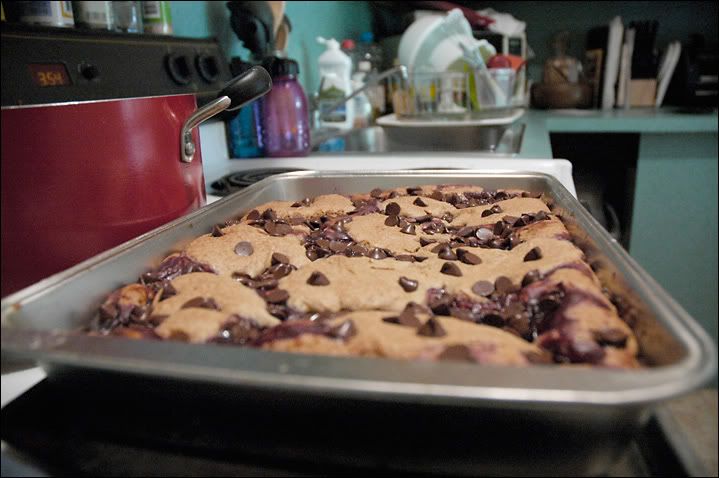 The perspective here makes this look like the largest pan of blondies ever made. I'm okay with that. I wish it really were, because then I'd still have some to eat. Also, you know how you can see part of my kitchen in the background there? Yeah, well that's actually my whole kitchen.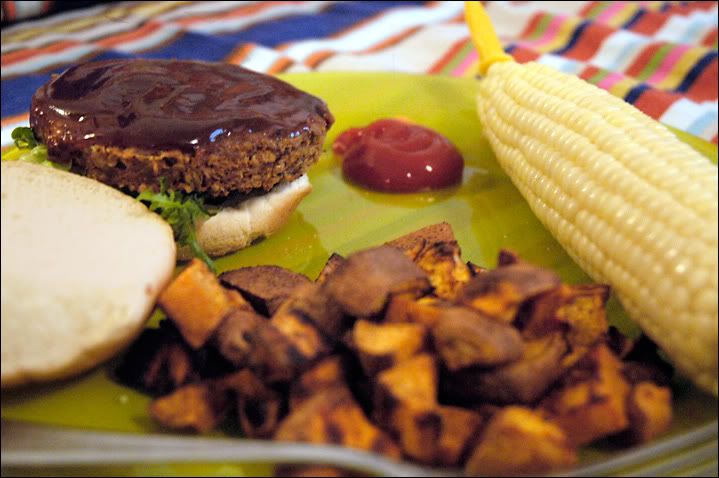 Tuesday night I was feeling lazy, and we had leftover veggie burgers from a barbecue The Boy's dad had for Father's Day. So there you have it: an Amy's All American burger covered in BBQ sauce, corn on the cob, and roasted sweet potatoes. The burger was okay. I'm not really a fan of veggie burgers most of the time - the texture is weird. These were above average, but I wouldn't buy them myself.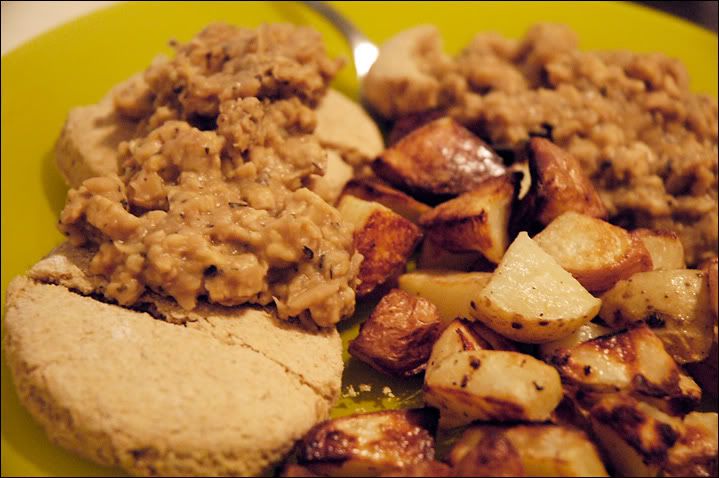 Last night was a VwaV breakfast for dinner extravaganza! Baking Powder Biscuits (made with whole wheat pastry flour), Tempeh and White Bean Sausage Gravy (oooooh god this stuff was amazing), and roasted potatoes. I left a few things out of the gravy - fennel seed, because I'm not fond of the flavor, oregano because I don't have anyright now (I threw in some thyme instead), and I didn't have any fresh sage so that got left out. It was SO good, though. Like I'm going to make it again and eat it straight from a bowl or as a sandwich spread. Mmm.
The only thing about this meal I didn't like was the fact that it was entirely beige. I feel like there was some nutrition lacking in that way. But it's okay. Sometimes you need a big, heavy plate of protein and carbs.