Tuesday 5/30 - Smoky Corn Risotto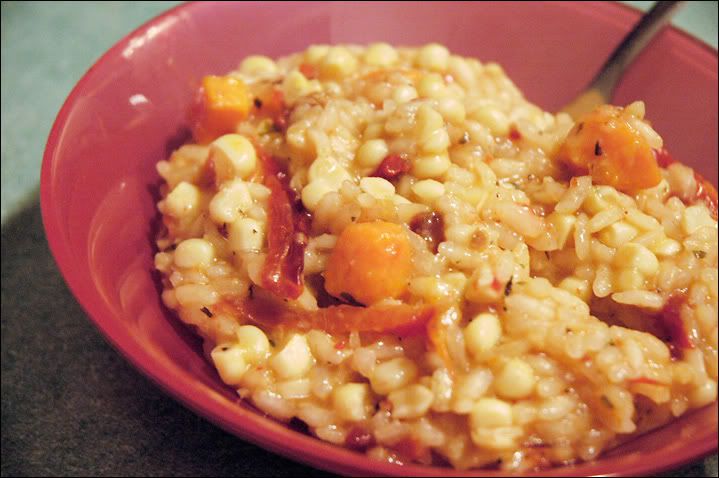 I'd been eyeing this recipe for a long time, and after going to te market today I had everything I needed on hand. You could make this with frozen corn, but I really would recommend going with fresh. It's not much trouble, and the texture really makes a difference here - it's much more toothsome and crunchy, whereas frozen corn is often a tad mushy no matter how little you cook it. So, definitely go fresh, especially now that fresh corn is coming back into season (well, it is here anyway).
Overall this is a lovely dish. It's very creamy and yet not at all heavy, thanks to the fresh corn and sun-dried tomatoes. The sweet potato adds some more substance and color, and its sweetness, coupled with the delicate flavor of the corn, sets off the smoky chipotles very nicely. Plus it's much lower in calories than I thought it would be - bonus! The one downside is that it does take some preparation. There are a lot of things to cut up. Six things, in fact. But I think it's worth it. I'll definitely make it again.
We had this on its own as a meal, but in the future I'll probably pair it with tempeh or some other meat substitute to get in some extra protein. Because while it's low-cal and delicious, it is admittedly light on protein.
Smoky Corn Risotto
Recipe from
Entertaining for a Veggie Planet
by Didi Emmons
3 ears of corn, shucked, kernals cut off (or 2 cups of frozen corn)
4 cups of vegetable broth
2 Tbsp olive oil (I only used 1)
1 small sweet potato, peeled and diced
1 medium red onion, chopped (reserve a bit for garnish if desired)
1 1/2 cups raw arborio rice
3 cloves garlic, minced
1 tsp salt
1/2 cup dry sherry (I didn't have this - I just used more stock)
2-3 canned chipotles in adobo, seeded, minced
1 Tbsp chopped fresh oregano, or 1 tsp dried
10 sun-dried tomatoes, drained if oil-packed, sliced thinly
Heat the broth, plus 1/2 cup water, either in a small saucepan or in a large microwave-safe measuring cup. I think the latter is easier, because then you can just pour it out from there. Anyway, heat it up and keep it warm.
In a large saucepan, heat the oil over medium heat. Add the onions and sweet potatoes and saute, stirring occasionally, until the onion is soft - about 7 minutes. Add the rice, garlic, and salt and saute for 1 minute, stirring to coat the rice with the oil.
Stir in the chipotles, oregano, and sherry, if you have it - otherwise, as noted, you can just use some more stock and it will still turn out just fine. Add 1/2 cup of the broth to the rice mixture and simmer, stirring frequently, until the liquid is absorbed. Add the remining broth, 1/2 cup at a time, stirring constantly (or at least very frequently) until each addition is absorbed; when there is just 1 cup left, add the corn and sun-dried tomatoes.
Cook until the rice is tender but still slightly chewy, 18-20 minutes total, adding some additional hot water if the rice absorbs all the broth. (I had to add about 3/4 cup extra water in all, but I think I may have had my heat too high, so as always, your mileage may vary.)
Season with salt and pepper and serve immediately, sprinkled with the reserved red onion if you like that sort of thing.
Serves 4-6.
My changes:
Pretty much just what's stated in parentheses.1 Tbsp of oil instead of the 2 that the book calls for, no sherry, and I didn't have any oregano so I used dried basil. Also I didn't garnish mine with onion. I just don't feel the need to sprinkle raw onion onto things that aren't sandwiches.
Nutritional Information:
230 calories, 3.4 g fat (0.4 g saturated fat), 3.6 g fiber, 4.8 g protein @ 5 servings.