Chipotle Black Bean and Veggie Burritos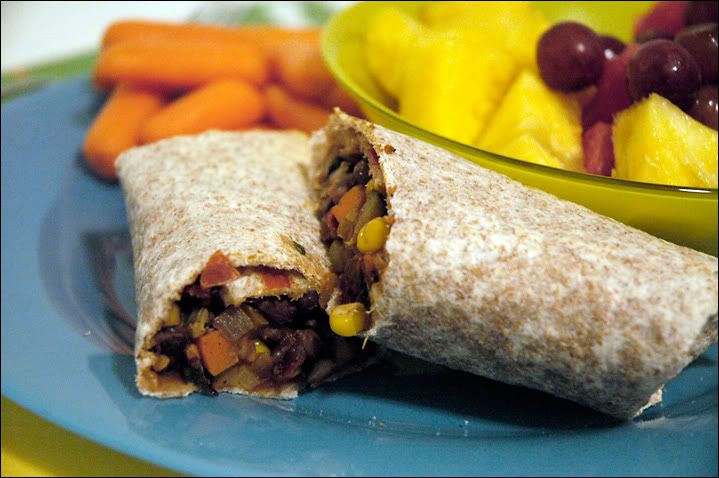 This is a recipe I just kind of threw together as I went along. The Boy and I used to make these kick ass black bean burritos back in my lacto-ovo days, heavily spiced with cumin and smothered in cheddar cheese. The recipe was loosely based on one from an issue of Southern Living magazine that his mom had lying around. To this day I still have no idea why a completely non-southern woman living in Central Pennsylvania would get Southern Living magazine, but the recipe was a good one. I was thinking of those burritos when I made these, but aside from the black beans and cumin they have very little in common. It turned out really well, and was quick to make - an all-around success. I wish I'd made more, actually.
Chipotle Black Bean and Veggie Burritos
1/2 tsp oil (I used corn)
3 cloves garlic, minced
1 small onion, diced
1 small carrot, diced
1 small bell pepper, any color, diced
1/2 small zucchini, diced
2 plum tomatoes, chopped
1 chipotle pepper, seeded and diced
1/2 cup corn
1 15-oz can black beans, drained and rinsed
1/2 tsp cumin seeds
1 1/2 tsp cumin
1 tsp chile powder
1/2 tsp salt
a few splashes of chipotle hot sauce
1/4 cup chopped cilantro
4 tortillas
Pre-heat the oven to 350 degrees.
Heat the oil in a large skillet over medium heat. When it's hot, throw in the cumin seeds and let them fry for about 10 seconds. Add the onion, carrot, and bell pepper and saute until the onion begins to brown. Add the zucchini, tomatoes, chipotle, and corn and cook, stirring occasionally, for 5 minutes or so.
Put in the black beans and spices, including the cilantro and hot sauce, and cook, stirring, for a few minutes - until the beans are heated through, basically. You can mash it up a bit along the way if you like, or leave the beans whole.
Spoon the mixture into the tortillas and wrap 'em up. Place seam-side down on a baking sheet and bake for 10-20 minutes, depending how crispy you want them. Top with whatever and eat.
Makes 4 regular-sized burritos. Larger or smaller tortillas will obviously make less or more, respectively.
Nutritional Information (filling only):
145.5 calories, 5 g fat (0.5 g saturated fat), 652 mg sodium, 26 g carbs, 8.5 g fiber, 3.5 g sugars, 7.25 g protein, 40% vitamin A, 50.75% vitamin C, 5.5% calcium, 12% iron @ 4 servings.
(I calculated it as just the filling so that I can count it by itself and then add it whatever tortilla I use separately. It just makes things easier and more accurate, I think.)