Peanut Noodles Save The Day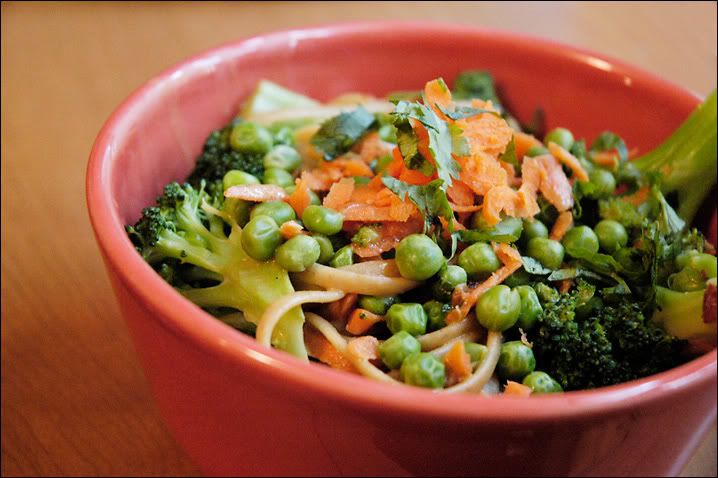 I had this whole big meal planned for tonight. It was slightly Mexican in terms of flavor, and it was going to be goooood. But then I came home from another day of retail slavery and worked out the logistics of it all, and of course it was going to require way too much cooking time and also some ingredients I didn't have. So I scrapped that (though I've filed the menu away for another day) and suddenly lost all motivation to cook. I'd been deflated. I contemplated going out to eat, but around here the pickings are pretty slim. Plus I really can't afford to go out. So I turned to an old standard: peanut noodles.
We're out of soba noodles right now, so I used whole wheat linguine. The veggies are grated carrots, steamed broccoli, and peas. I threw in some cilantro just because I love cilantro. I thinned the sauce out a bit too much, so it wasn't as thick and sticky as I usually like, but it tasted good nonetheless.
Obviously this isn't a new and exciting dish, but I thought the picture turned out well so I wanted to post it anyway.
Tomorrow: some very special sugar cookies. Hold onto your hats.