A Lazy Dinner + Cherry Cobbler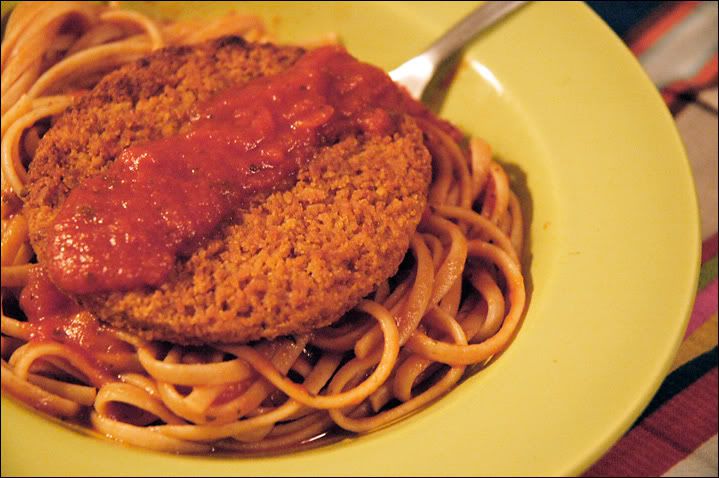 A spicy "chicken" Boca patty on top of whole wheat linguine with pasta sauce from a jar. My favorite is Bertoli Marinara with Burgundy Wine. This is obviously no great culinary masterpiece, but I wanted to post it anyway because the reality is that sometimes I'm very lazy. Also, the lighting in this picture is horrendous. I need to start cooking more thing during the day so I can take advantage of the sunlight. Maybe I should make lunch my largest meal. My eating schedule is so whacked that it would probably be more akin to most people's dinner time anyway.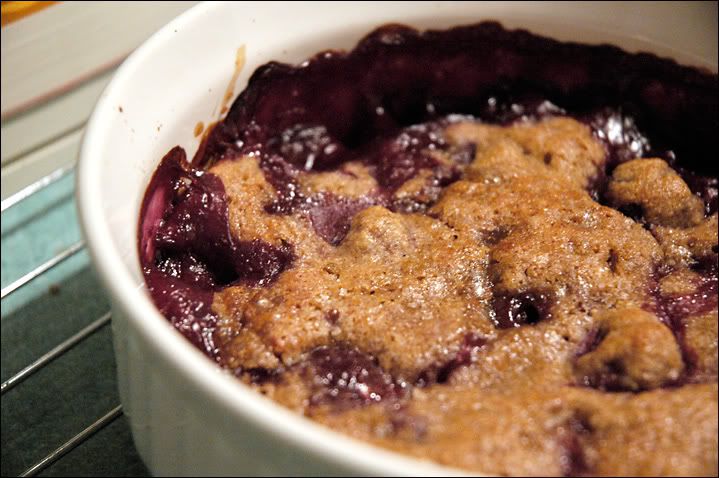 The first of many cherry creations. I used the Peach Cobbler recipe from
Vegan with a Vengeance
, but tweaked the hell out of it to accommodate the change in fruit and to make it lower in fat and calories. I also halved the recipe, and then split it even further by baking it in two smaller dishes. So I ended up with 4 servings, with each dish containing enough cobbler for The Boy and I together. The leftovers got covered and put in the fridge for future consumption. And by "future" I mean "tomorrow." Possibly for "breakfast."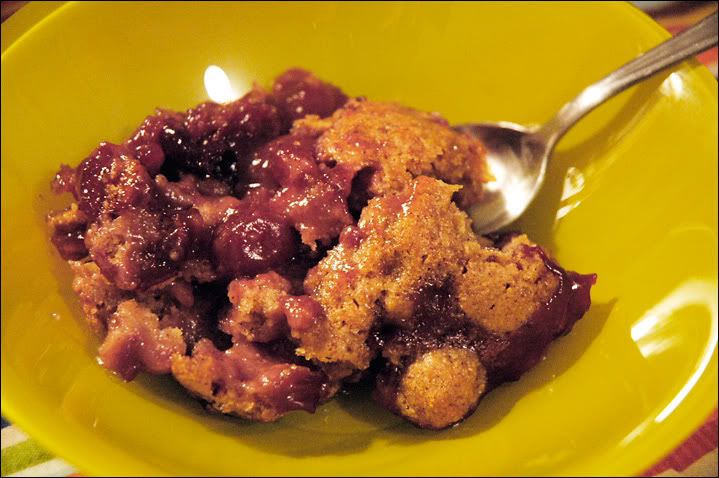 The cobbler in an unfortunately-colored bowl. It's made even worse by the reappearance of The Yellow Light of Doom. Anyway. I've never made the Peach Cobbler straight up from the recipe, so I don't know how my modified version compared, but it was pretty damn tasty in any case. And not too bad for you, either: less than 200 calories and 3 grams of fat per serving, plus 4 grams of fiber. The topping was perhaps a bit less crisp than I'd like, but not enough that I'd feel compelled to go the full-fat route. Besides, this way I'd feel less guilty plopping some vanilla Tofutti on top.