Banana-Coconut-Date Oatmeal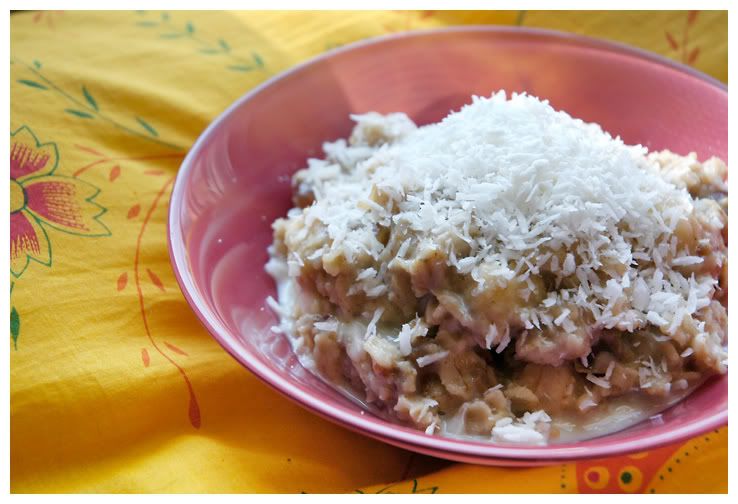 Breakfast! Now that it's really starting to feel like winter around here (it's been in the 30's this week), it's time to ditch the cold cereal and break out the oatmeal. I got up miraculously early this morning and exercised, and by the time I was finished I was starving. I fought the temptation to just grab something and made this extremely satisfying oatmeal instead.
I'm sure everyone knows how to make oatmeal, so I'll just say that I simmered my oats in a mix of 1/2 cup very vanilla soymilk and 1/2 cup water, added cinnamon, cardamom, vanilla extract, and three chopped dates. After it was done, I mashed in a small banana and topped it with 1 1/2 tbsp unsweetened coconut. I feel extremely dorky and anal-retentive for giving measurements like that, but I'm counting points at the moment so I'm measuring everything. This worked out to 6 points, and will keep me full for quite a while. It was also seriously delicious. Like a tropical party in my mouth. Yum.
My new food love of the moment is Silk very vanilla. So sweet, so good. I know it's all "Fortified for kids! Kids love it!," but I don't care. I use plain soymilk on cereal and stuff, but for drinking straight, in coffee or tea, and making oatmeal, very vanilla is where it's at. I want to make vanilla pudding with it, too. It would be vanilla overload. Just how I like it.