Friday Menu 1/20
Brunch
Banana Bliss Pancakes from Dreena Burton's
Vive le Vegan!
- check out
her blog
- with maple syrup. The recipe made less than the specified yield - I got 4 of what I consider medium-sized pancakes - but they were really thick, to the point where I could have eaten just one and been full. I actually wish I had, because I feel like I'm going to burst. Oof. No picture, because by the time I remembered to do that I had already eaten half of my stack and my boyfriend's was in no better shape.
Snack
Clementine
Sugar snap peas with lemon juice, salt, and a little organic sugar.
2 dried dates to wash that nastiness out of my mouth.
Sorry, but carrots and occasionally peppers aside, I am just not a fan of raw veggies. Uck. I ate most of them, though. So no one can say I didn't try, dammit.
Dinner
The PPK's
Red Lentil Dhal
, with some fresh spinach thrown in because I needed to use it up before it went south. This stuff... oh. It's so good. The lime juice is just perfect. One change I do make, though, is to reduce the oil from 3 Tablespoons to 1.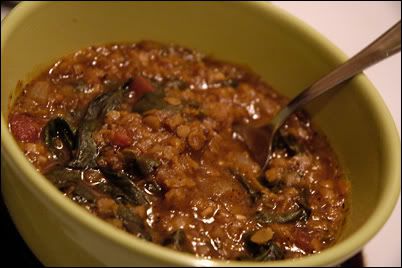 Snack
16 Cinnamon Graham Sticks.
Clementine.