Monday Menu 2/13
Breakfast
Strawberry-banana smoothie with flax. This is pretty standard fare for me, but today it tasted weird. Like, bad weird. I think my flax may not be so good anymore. Which is fine, since I actually just bought a new bag. So I'm just going to throw the old stuff out. Because really, ew.
Lunch
Sushi, dipping sauce, red grapes, a clementine, and 2 chocolate Earth Balls. And yes, those are Hello Kitty chopsticks you see. They come with their own carrying case, which is not pictured here. They are, in fact, the best thing ever. It's okay to be jealous. I would be too.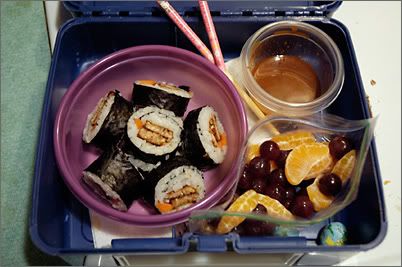 Snack
2 Tbsp. of chocolate chips.
1/2 oz. almonds.
Dinner
Spicy Peanut Noodles with peas, broccoli, and peppers. It's official: this is my new favorite recipe.
Snack
2 fudge-mint cookies.
My chocolate consumption has gone up. I'm not sure if that's a good thing. I think it might be making me feel like a Junk Hoover. A bottomless pit of snacking. I don't like the Earth Balls, really, but I'm eating them to use them up. That's not so good, but it means they can be easily cut out. The chocolate chips are a gateway chocolate. If I'm not careful I can inhale a whole bag over the course of a day. That's not a hypothetical, either. Before I went vegan I managed to suck down a bag of Andes baking chips AND a bag of white chocolate chips in
one day
. The chips, they are a slippery slope.