Wednesday Menu 2/1
Lunch
I did a little experiment with leftover mashed sweet potatoes and made little pan-fried sweet potato cake things. So I had 5 little cakes and some tempeh bacon. No breakfast because I woke up too late and wasn't that hungry anyway. The sweet potato cakes were pretty good, but I'll change a few things if I ever make them again.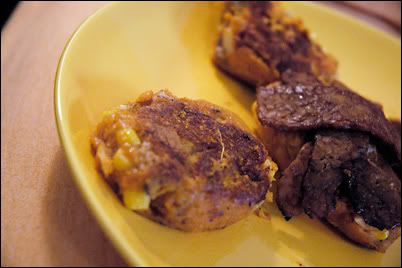 Snack
A chocolate macadamia nut cookie. They're three days old and still just as freakishly good as ever. Clearly they're evil.
Clementine.
An apple with 1 Tbsp. natural peanut butter.
Dinner
Corn Chowder from
Vegan with a Vengeance
. I heart this stuff. It's so easy and so, so yummy.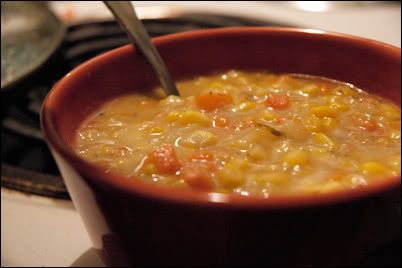 Snack
Another chocolate macadamia nut cookie.
I didn't really eat that much today, but I wasn't hungry. Part of that was waking up late, but I've noticed a trend since I've started paying more attention to my food: I'm not as hungry when I eat less. It seems counter-intuitive, but I think when I would snack out of boredom it threw things out of whack. I couldn't really tell if I was really hungry or if I just wanted to eat because I wanted something to do. Being conscious of what I'm eating and why I'm eating it ensures that when I do eat, I'm satisfied - because there was actually a need to satisfy in the first place.