Friday Menu 2/3 - White Bean and Roasted Garlic Soup
Breakfast
Oatmeal made with soymilk, raisins, flax, and maple syrup. The left side of my jaw is killing me. I see soft foods in my future.
Snack
A clementine. Ow ow ow owowowow. Baby oranges should not hurt this much.
Lunch
A banana-date smoothie with flax.
Dinner
White Bean and Roasted Garlic Soup from
Vegan with a Vengeance
. I love garlic, especially when it's roasted, so of course I love this soup. I only made one change: I didn't have fresh sage, so I used a little less than 1/2 tsp. of dried. It was delicious, and inoffensive to my increasingly stiff and swollen jaw. At this point those two things are of equal importance.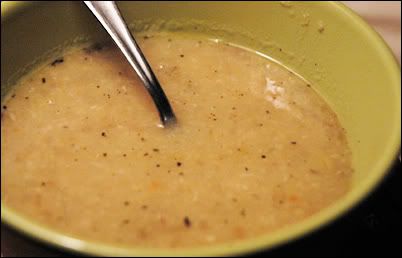 So yeah, I didn't eat much today. Mostly because I couldn't. It's now 10:58 pm and I can only open my mouth about half an inch before the searing pain kicks in. It's fun. I really hope this goes away soon. Otherwise me and my absolutely-no-insurance are going to have to see a dentist, and I really can't afford that right now. Or ever, actually.