4/14 - Punk Rock Chickpea Gravy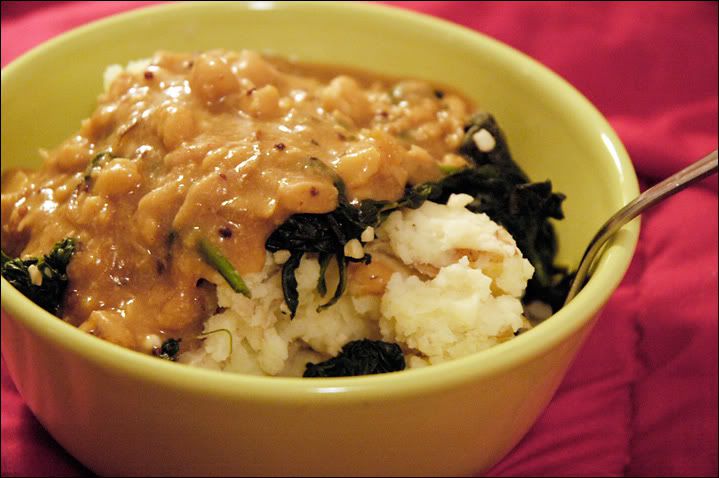 I wasn't feeling up to anything complicated tonight, so I decided to finally try out the Punk Rock Chickpea Gravy from
Vegan with a Vengeance
. I mashed up some potatoes, sauteed some spinach, and threw the gravy on top. Yes, I actually
threw
it. I had The Boy stand across the room with the bowl and I hurled gravy at him. It was
awesome
.
Okay, so that didn't happen. The gravy was delicious, though. Isa really knows how to treat a chickpea. Plus it was super simple. Sautee an onion with some mustard seeds and garlic, add a can of chickpeas, mash 'em up, add an array of spices (cumin, paprika, corianer, oregano, thyme, rosemary), soy sauce, and the juice of one lemon, pour in 2 c. water with 1/4 c. flour dissolved in it, stir until thick, and then add 1/4 c. nutritional yeast. Done.
I really don't like the smell of nutritional yeast. It's very feet-y. Then when you throw lemon juice into the mix things start smelling like vomit. At least to me. So that turned me off for a minute. It tasted good enough when it was done to make up for the unpleasant smells along the way, though.
Definitely a keeper. I'm not surprised at all. VwaV has yet to let me down.