Soft Cutout Cookies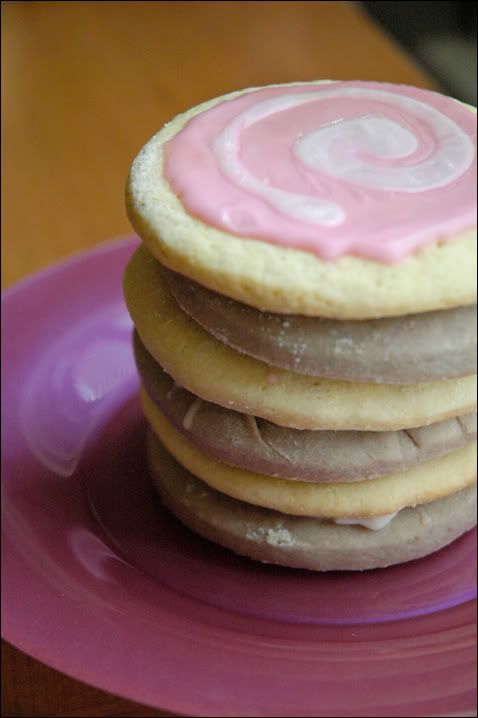 Pre-vegan (and way pre-healthy eating!), I loved those big, iced smiley face cookies you can get at Eat 'n Park. They're soft and sweet and evil. I think the icing is actually just crack and powdered sugar. Of course it's been ages since I've had one - I haven't been there since high school, long before I went vegan and couldn't eat there even if I wanted to. Which I really don't, anymore. My tastes have definitely changed, but I still love the thought of those cookies. So when I found
this recipe
in my "Recipes To Try" bookmark folder, I figured I'd give it a shot.
With only one egg, it was a snap to veganize. I made two half-batches, because of confusion regarding how many cookies the recipe would yield. It states 4-5 dozen depending on cookie cutter size, but I used a large (but not huge) round cutter and only got 14 cookies from half the recipe. So I made half again to get a total of 28. I guess my cookie cutter is bigger than I thought. The difference in color is due to an ill-fated attempt to make pink cookies by coloring the dough with cherry juice. What I neglected to consider is that lovely red cherry juice turns quite quickly to a dull purple, thus leaving me with somewhat greyish cookies. They're not the prettiest things ever, but they still taste good. The second batch obviously didn't get colored at all.
These cookies aren't much by themselves - soft, but somewhat bland. It's the icing that makes them. I just used powdered sugar and a bit of vanilla soymilk, which was super sweet by itself but set off the cookies perfectly. They deifnitely satisfied my Eat 'n Park cookie cravings.
Soft Cutout Cookies
Recipe veganized from
this recipe
by Nic of
bakingsheet
2 3/4 cups ap flour
1/2 tsp baking powder
1/2 tsp baking soda
1/2 tsp salt
1 cup sugar
1/2 cup margarine, very soft
1/2 cup soymilk, with 1/2 Tbsp vinegar mixed in (this mimics buttermilk)
2 tsp Ener-G egg replacer + 3 Tbsp warm water
1 tsp vanilla extract
1/4 tsp almond extract
In a medium bowl, sift together flour, baking powder, baking soda and salt.
In a large bowl, cream together sugar and margarine. Beat in soured soymilk, egg replacer, and extracts. With the mixer on low speed or by hand, add in the flour mixture, mixing until no flour remains.
Divide dough into two pieces. Wrap in plastic wrap and freeze for at least 2 hours.
Preheat oven to 375F.
Working with 1 piece of dough at a time, roll out to 1/4-inch thick on a lightly floured surface and use a floured cookie cutter to make desired shapes. Transfer cookies to a parchment lined baking sheet. Reroll remaing dough, chilling for a few minutes if it becomes too warm to handle easily. Repeat with second piece of dough.
Bake for 6-8 minutes at 375F, until the edges are slightly firm to the touch but cookies are not browned (The bottom of the cookies will be light brown). Cool completely on a wire rack before icing.
Makes 2 dozen or more, depending on cookie cutter size.
Simple Confectioner's Sugar Icing
Mix 1 1/2 cups powdered sugar with soymilk until it's thin but spreadable. Add food coloring if you want. Ice cookies as desired.
This mix makes enough to ice 28 large, round cookies.