The Vegan Treats Experience
Before I get started, I'd like to take say thanks to everyone who left birthday wishes in the comments. THANK YOU!!! Seriously, you guys are so awesome. My birthday is notoriously forgotten by my family and friends (this one was no exception), so to have so to get so many happy birthdays from people I've never actually met is really wonderful. And now, on to the goodies...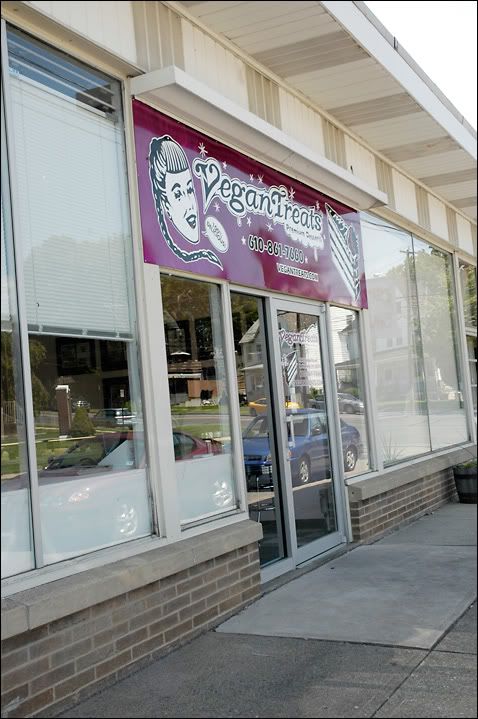 This is the storefront at Vegan Treats, an entirely vegan bakery located in Bethlehem, PA. It's a 75-miles drive from Lancaster, and I am here to tell you that it's worth every single mile. We stopped in on our way back from Bushkill Falls (pictures to come once I get them all sorted and processed), which is an additional 50 miles north. We got there around 2:30 in the afternoon, and the place was fairly full but emptied out a bit shortly after we arrived. It's a really cute place - lots of pink and black, with a checkerboard floor, polka dotted plates and adorable retro tables that I will covet in my dreams from now on, and a mural of pastries on the wall behind the display case. The girl working behind the counter noticed our shock and awe and came around to tell us what every item in the case was. That was awesome, because I honestly wouldn't have known where to start.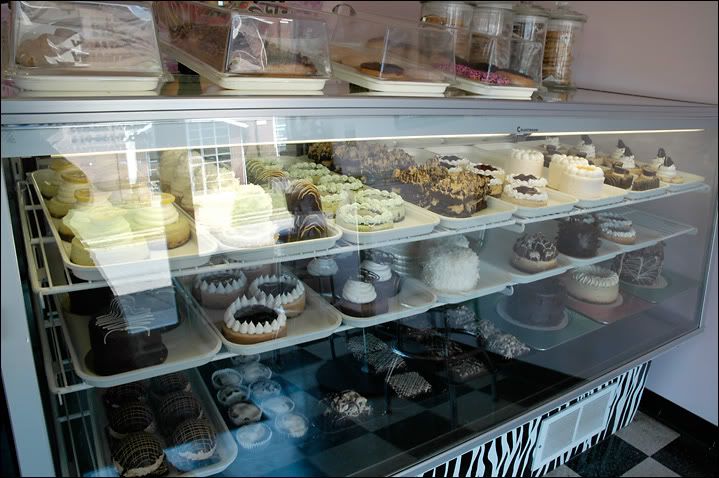 This is the display case. Cases of cinnamon buns, pecan rolls, and donuts; jars of huge cookies; and row upon row of cheesecakes, cakes, and brownies. You can see why we had a little trouble deciding.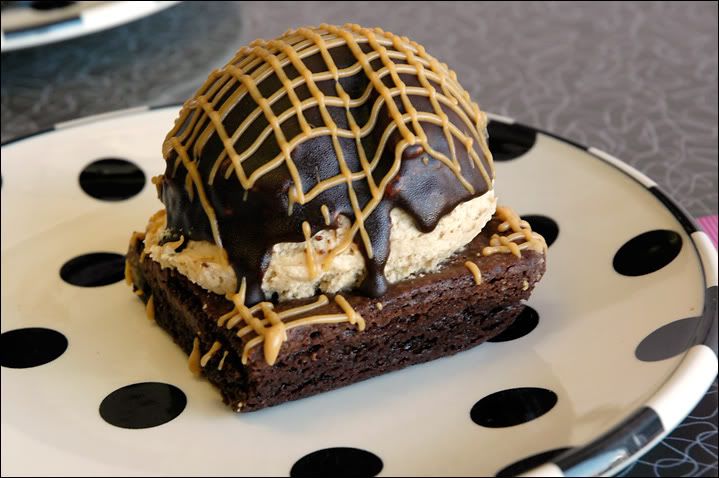 This was my poison - a peanut butter bomb brownie. A big scoop of creamy peanut butter mousse plopped on top of a rich brownie, then covered in chocolate and drizzled with more peanut butter. It was seriously amazing. And huge! I'm kind of surprised that I managed to finish it. Okay, no I'm not.
Adam (aka The Boy) got a mini oreo cheesecake, which was good but not spectacular. We both found it a bit bland. I was never a huge fan of the New York-style cheesecakes pre-vegan, though, so I may be a bit biased. The texture of this was pretty spot-on, not at all runny or mushy like some vegan cheesecakes can be. The frosting on top was delicious, and the cheesecake really benefited from it. I think maybe the cake itself wasn't sweet enough for my taste.
I brought three more things home with me, which I'll post about as I eat them over the next few days. Overall I'd give Vegan Treats two thumbs up, but that's only because I don't have more thumbs to give. One a scale of one to awesome, this place rates right up there with unicorns and a vegan cheese that stretches like the real thing. Definitely plan a trip if you're anywhere close by.