LightLife Reviews, Part I: Smart Tortilla Wrap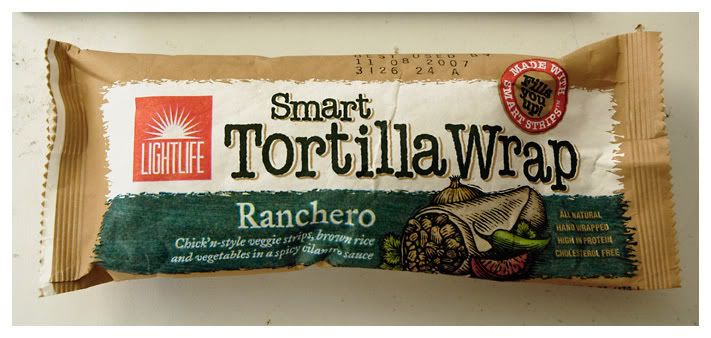 As I mentioned in my last post, I recently received a box full of Lightlife products in the mail for testing/reviewing purposes. Yesterday I wanted a fast lunch, so I chose this tortilla wrap. This product comes in three varieties: Mexican Style, Breakfast Scramble, and Ranchero, which is the one I received. There is also a Smart Pretzel Dog that shares the same type of packaging.
Of the three wraps, the Ranchero is the one I'd be most likely to pick up for myself. The description on the package reads: "Chick'n-style veggie strips, brown rice, and vegetables in a spicy cilantro sauce." The package also informs me that the tortilla wrap is over 50% organic, which isn't something I usually worry about, but it's nice to know anyway.
Nutritionally, this thing has 300 calories, 6g fat (1g sat fat), 370mg sodium, 48g carbs, 7g fiber, 6g sugar, and 15g protein. It also has 50% of the RDA of vitamin C, 10% calcium, and 30% iron. It clocks in at 6 WW points.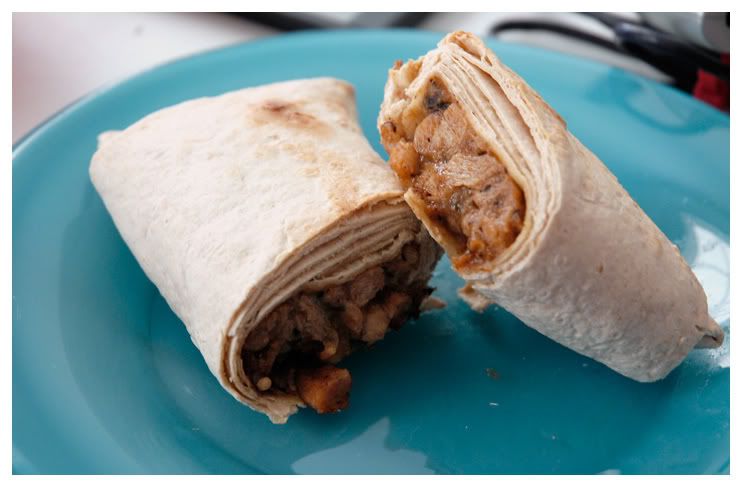 And now to the real question - how does it taste? Pretty good, I'd say. I'm a fan of Lightlife's chick'n strips, so of course I enjoyed that part, and the cilantro sauce is nice - not as strong as I expected, either. There's a good bit of tomato flavor as well, and some pleasant smokiness. I didn't really notice the brown rice, but everything inside is sort of congealed together (as these things tend to be), so it likely just blended with the sauce and thickened it up a bit.
It seemed small when I first looked at it, but I ate it with some baby carrots and it filled me up pretty well. I still think that there's an awful lot of tortilla compared to the amount of filling, though.
My only real complaint is that the baking time given on the wrapper was way off for me. I wrapped it in foil and put it in the toaster oven at 350, just like the package says to, and 25 minutes later (20-25 minutes was the given span) it was still cold inside. I stuck it in the microwave (sans foil, of course) for 2 minutes and then put it back in the toaster oven for 5 minutes to crisp up the tortilla a bit, and then it was fine. I'm not sure what went wrong with the initial baking, but it was rather annoying.
Overall, I'd give it a 7/10. It was good and it filled me up, but the heating instructions didn't work out for me and I thought they could have been a bit more generous with the filling.
Labels: lightlife, product review