Xmas Goodies
Wow, you know, I intended to post a lot more over christmas break, but I forgot how busy things can get during that time. Plus I've sort of lost all will to cook new and interesting things - hopefully I'll get over that at some point. For now I have some pretty bad pictures (stupid kitchen light) of the goodies I made for christmas.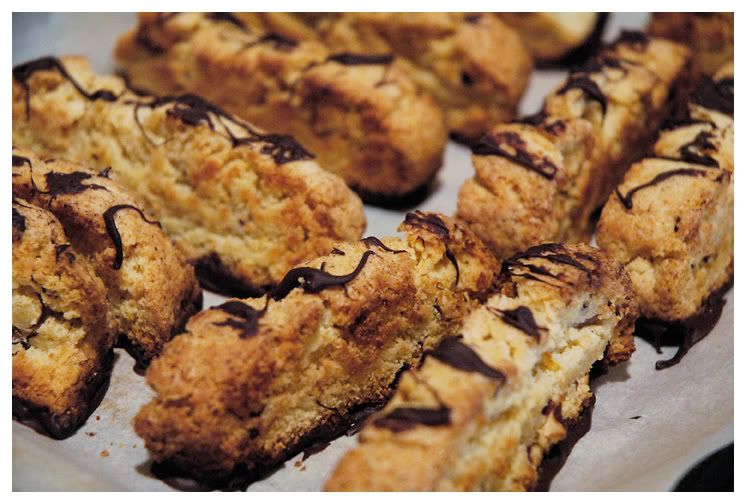 Orange-Chocolate-Hazelnut Biscotti. Recipe is from the fantastic
Bittersweet
. She originally sent me this stuff when we did a little treat-swap last year, and it is seriously just the best thing ever. Everyone who got some loved it. Even my dad, who normally looks at anything vegan like it's made of twigs and elephant dung.
Soft cutout sugar cookies with simple confectioner's sugar frosting. I used
this recipe
, which has become my gold standard for this type of cookie. I used snowman and tree cookie cutters, but I didn't do any fancy frosting jobs. Too much work. Too many little bowls to clean.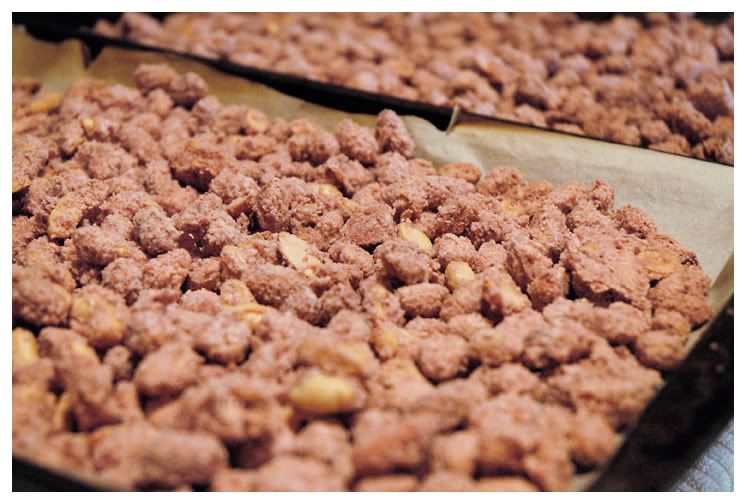 These sugar-coated peanuts are my boyfriend's dad's specialty. It's a family recipe that I just now got ahold of. They're addictive and awesome, and so easy to make. This is another one that everyone loves. Even my dad. He actually asked me to make him some more. I thought my head was going to spin around and explode.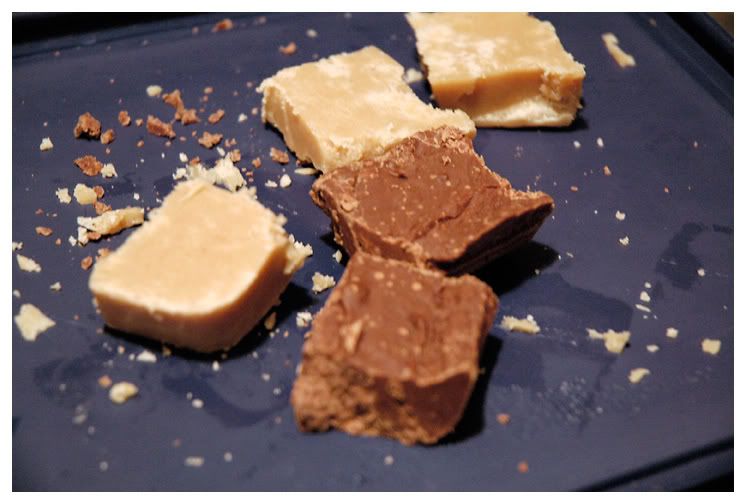 And finally, chocolate and peanut butter fudge. Two kinds, both from La Dolve Vegan. I used a candy thermometer and everything, and it was pretty simple to make. My first batch of PB fudge got heated up too much because I am very, very smart and was looking at the celcius temperature scale instead of farenheit. I kept wondering why on earth my boiling sugar was still at only 120-some degrees, and then suddenly it started to burn a little bit. It was okay, though. I just called it a test batch and Adam and I ate it all. It was still good.
I also made chocolate chip cookies from Vive le Vegan, but I didn't get a picture of those.
Today I got a package of Lightlife products in the mail, because a representative from the company contacted me and asked if I'd be interested in testing out and reviewing some products. Of course I said yes. So in the next few weeks I image I'll be posting a lot of that stuff.
Edit:
Here's the recipe for the sugar-coated peanuts:
Sugar Peanuts
2 c raw, red-skinned peanuts - the skins MUST be on!
1 c sugar
1/2 c water
Preheat oven to 300 degrees.
Combine sugar and water in a pot, and bring to a low boil. Stir in peanuts. Stir constantly, but gently, so as not to loosen then peanut skins too much, until there is no liquid left and the peanuts are coated in a thick sugar paste. Spread the coated peanuts out in a single layer on a well-oiled or parchment-covered cookie sheet. Bake for 30 minutes; you may want to check them at 25 to be sure they aren't burning.