3/26 - Cinnamon-Spice Roasted Veggies and Couscous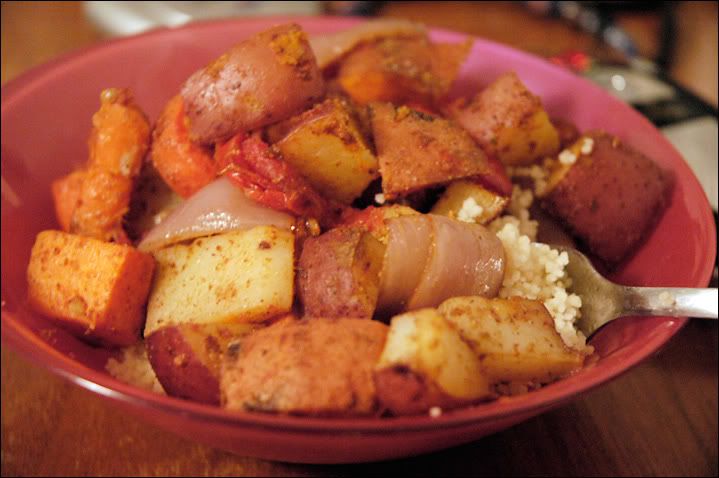 After reading a review of La Dolce Vegan on
The Veg Blog
, I decided that it was time to break it in. I have all three of Sarah's books, but for some reason I hardly ever use them. But the Cinnamon-Spice Roasted Vegetables with Couscous mentioned in the review sounded too good to resist.
I didn't have all of the specified ingredients, most notably the shallots. I haven't seen them at the farmer's market recently and they're ridiculously expensive at the grocery store, so I just cut up a red onion and threw that in instead. I also used regular potatoes instead of butternut squash, because I really didn't feel like peeling that shit tonight. A chopped carrot and plum tomato wedges also went into the mix. I used 1 Tbsp of oil instead of 3, because I don't think I've used 3 Tbsp of oil in any dish
ever
, no matter how many people it served. And last but not least, mine needed about 20 minutes more oven time than the recipe called for.
Even with all of my wacky substitutions/additions, it came out very well. Nice and spicy and tasty and a little sweet, but not overly so. I'll make it again for sure.