3/22 - Seitan Stroganoff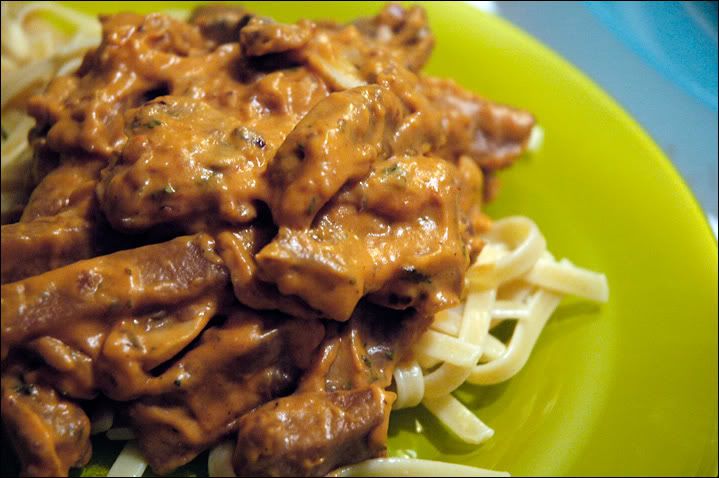 When I noticed The Boy eyeing one of those beef stroganoff box meals at the store the other day, I decided to make a vegan version to satisfy his craving. Now I've never had beef stroganoff in my life, so I had no idea what I was getting into. I originally planned to make the recipe from VwaV, but I was missing too many ingredients. I didn't have shallots, or wine, or dijon mustard, or either type of mushroom it called for... you get the idea. So I found a simpler recipe online
here
and went to town.
I had some leftover VwaV seitan in the freezer, so I defrosted that - and to those who were wondering, it freezes just fine. The recipe was pretty simple to put together, and we had it over fettuccine noodles that I broke in half before boiling. The Boy loved it, but I won't make it again unless he requests it. And then I'll make something different for myself. It wasn't
bad
, I just didn't really care for it. It was extremely rich, for one thing - I couldn't even finish half of what I dished out for myself.
Then there were the mushrooms. I don't like mushrooms unless they're covered in something extremely delicious, and even then they need to be chopped up so I don't really see them. There were a few in a mango curry I had at an Indian place one time, but the sauce was so good that I didn't even notice them. That wasn't the case here. I sliced them up, but the overall flavor just didn't do it for me.
I don't know. I didn't hate it, but I didn't like it that much either. But I think it's just me, because The Boy gave it two thumbs up.