Monday Menu 3/20 - Peanut Noodles and Tempeh
Breakfast - 9 a.m.
Raisin Bran with soymilk. (250)
Most of a small banana. (80)
Lunch - 1 p.m.
2 apple-cinnamon rice cakes with 1 Tbsp peanut butter and raisins each. (360)
1 c grapes. (60)
Baby carrots. (35)
Snack - 6:45 p.m.
1 maple brown sugar multigrain cake. (50)
Dinner - 10:30 p.m.
Spicy peanut noodles with broccoli and peppers. (335)
1/4 block sauteed marinated tempeh. (120)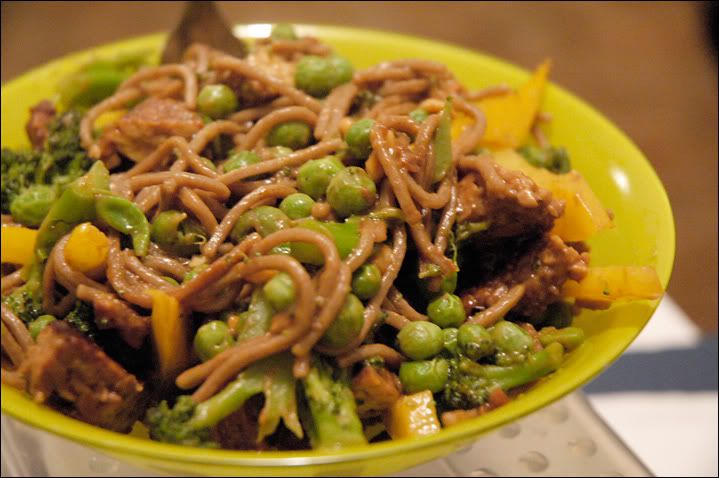 Snack - 11:15 p.m.
2 Tbsp chocolate chips. (140)
Total Calories:
1,430
Today was good. I have no complaints, except that I didn't eat dinner until way too late. I was studying for an art history exam that I have tomorrow, and it just turned into one of those "I'll eat when I finish just this
one more thing
..." things. When I did finally eat I think I inhaled it in under 5 minutes. I always eat too fast, though. It's something I need to be more aware of. I am not a Hoover. I am allowed to taste my food.
Someone questioned my rice cakes at lunch today. Her voice was incredulous. "Rice cakes?" Yes, rice cakes! I love 'em. They do bear an uncanny resemblance to styrofoam, though.