Kitchen Sink Minestrone
It's been a long day. I dragged my (decidedly not morning-oriented) butt out of bed at 6:45 to go running before it got too hot, then came home and did my strength training (except for the squats, because my thighs were weeping tears of pain). After cleaning myself up I walked down to the farmer's market to pick up a few things. It was crowded, so I tried to get in an out as quickly as possible, but I still came out with a pretty good haul: garlic, parsley, zucchini, red and green peppers, shallots, onions, green beans, dried basil and oregano, cherries, and strawberries. And then I had to carry all of this home. I don't live far from the market, but it's uphill coming home and being loaded down with bags in the heat makes for a somewhat unpleasant journey.
When I got home I put away what I didn't need and then assembled my ingredients, washing and chopping and draining and mixing. I fired up the stove, and less than an hour later I had...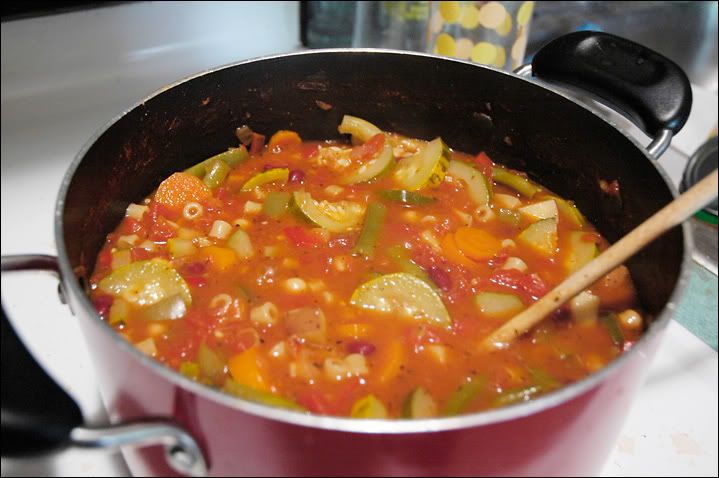 A huge pot of minestrone! It made a lot more than I expected - 12 cups, in fact. I thought about freezing some, but I figure that Adam and I can probably get through it in a few days. Once things go into my freezer I tend to forget they exist. Here's a shot of the bowl I had for lunch, and a recipe: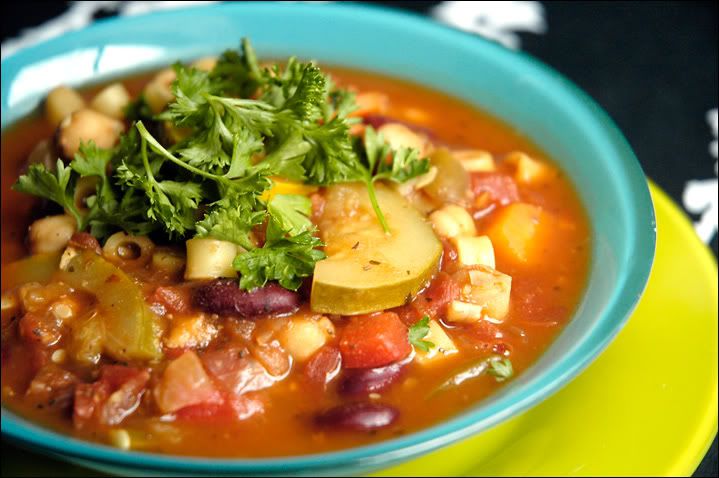 Kitchen Sink Minestrone
1 Tbsp olive oil
1 zucchini, sliced into rounds or half-rounds depending on the size
2 large carrots, sliced into rounds
1 large bell pepper, chopped
1 large onion, diced
4 cloves garlic, minced
1 medium red potato (6 oz), chopped
1 c green beans, cut into 1-1 1/2'' pieces
1 15 oz can chickpeas, drained and rinsed
1 15 oz can kidney beans, drained and rinsed
1 28 oz can diced tomatoes
1 8 oz can tomato sauce
2 Tbsp tomato paste
1 cup (5 oz) ditalini or other small pasta
6 c vegetable stock
1 Tbsp soy sauce
1 tsp dried basil
1 1/2 tsp dried oregano
1/2 tsp crushed red pepper flakes
1/4 tsp Spike seasoning (optional)
salt and pepper to taste
Heat the oil in a large pot over medium heat. Add the onion, garlic, and bell pepper and saute until soft. Add the carrots, basil, oregano, and Spike (if using) and cook, covered, stirring occasionally, for about 5 minutes.
Add the zucchini, potatoes, green beans, kidney beans, chickpeas, and vegetable stock and cook, covered, for about 10 minutes. Add the diced tomatoes, tomato sauce, tomato paste, soy sauce, crushed red pepper, and salt and pepper to taste and cook, covered, for about 15 minutes. Stir occasionally. Add the pasta and cook, uncovered, for another 10 to 15 minutes, depending on how big your pasta is. Stir the soup a few times during all of these steps.
Garnish with parsley and eat.
Makes 12 cups.
Notes:
Next time I think I'm going to add a can of crushed tomatoes in place of the tomato sauce and see if that gives me a thicker broth. I'll update the recipe if it works out well, but it's tasty this way too. You could use any kind of beans or vegetables in this, really - which is why I gave it the "kitchen sink" title. Spinach would be a nice addition. As for the salt, I probably used about a tsp. That's what I used when I calculated the nutritional info.
Nutritional Information:
163 calories, 2.2 g fat (.25 g sat fat), 496.4 mg sodium, 31 g carbs, 6.1 g fiber, 6 g sugar, 7.2 g protein, 37.5% vitamin A, 51.6% vitamin C, 6% calcium, and 10.5% iron @ 1 cup per serving.
This was an excellent lunch. And now I'm exhausted... just in time for work! Awesome.