Tofurky Italian Sausage + More Vegan Treats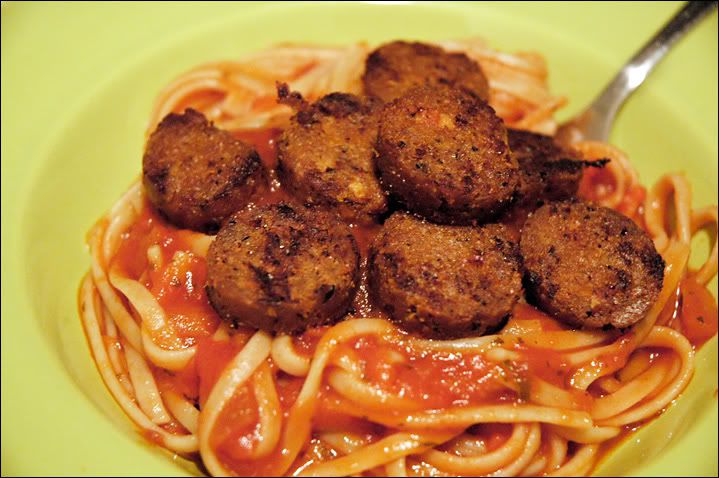 Tonight we tried the Tofurky Italian Sausages. I sliced one up and browned it in a pan, and then we had it with whole wheat linguine. Obviously. It wasn't bad. I'm a pretty hard sell when it comes to mock meats, because usually I think they're either too close to the real thing and therefore nauseating, or too mushy/weird-tasting and therefore disgusting. So it's really a no-win situation. Rarely does a meat substitute get my stamp of approval. These don't have it yet, but they didn't ruin my pasta and they pack a heavy dose of protein (29 grams per sausage!), so I'll ry them again.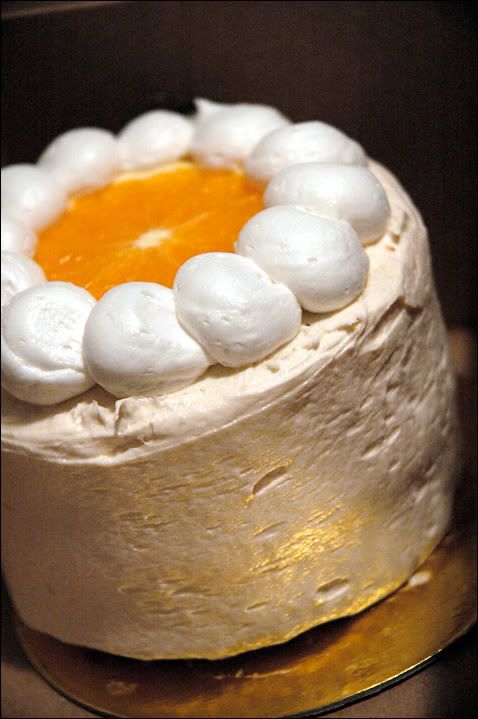 This little beauty is an orange creamsicle cake from Vegan Treats. It's a mini-cake, maybe 5" across - the perfect size, if you ask me. We've gotten 4 slices out of it so far, and there's enough left for another slice or two. It's two layers of vanilla cake with orange frosting, and little poofs of vanilla frosting on top. I believe the frosting has orange essence in it. It's really yummy, very rich and super sweet. So sweet that I actually scraped some off of my slice because it was a bit too much for me. It's funny; as a kid I would eat everyone else's leftover icing and I always wanted the piece with the most roses and blobs of icing on it. Now I find it sickeningly sweet at times, and definitely prefer a more modest amount. That's just me, though - the cake is really delicious. I'd love to try more of their cakes in the future, the coconut one especially.
Isn't this dramatically-lit photo amusing? I took a bunch and they all came out like this. It wasn't intentional - it's just the way the cake was sitting in its little to-go box.
Also, does anyone know where to get mini cake pans like this? I'm going to do a google search after I post this, but I thought I'd ask anyway. I want to make mini cakes.