Orange-Chocolate Chip Mini Cake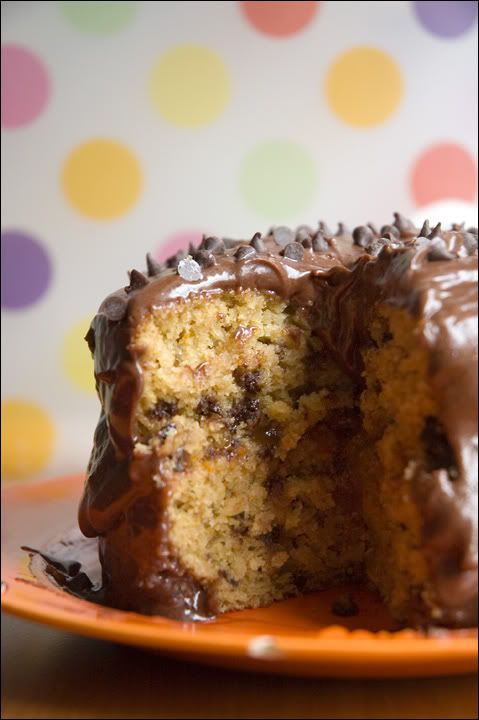 I have this problem with icing. I always make it too thin. Every time. This time it started out fine, then I refrigerated it until the cakes cooled, and then it seemed too hard so I added a little rice milk. It did not for a second occur to me that it was hard because it had been, oh, let's see... in the fridge? Man I'm smart. So that's why the icing looks all melty and weird here. In retrospect I could've just added some more powdered sugar, but apparently icing is my kryptonite so of course I didnd't think of that at the time.
Anyway. This is an orange-chocolate chip cake with orange marmalade between the layers and chocolate frosting. The cake was modified from
this recipe
, and the frosting was a slightly modified version of the one on the back of the Hershey's cocoa box. For the cake I reduced the sugar to 3/4 c, added about 1/4 c of extra flour, used whole wheat pastry flour, used 3 1/2 Tbsp of applesauce and 1 Tbsp of oil in place of the fat, orange juice in place of the water/soymilk, no almond extract, only 1 tsp of vanilla, and a little less than 1 Tbsp of orange extract. I also added about some orange zest to the mix, and of course mini chocolate chips - about 3 Tbsp. So including the marmalade, there are 4 types of orange flavoring at play here. It's orange overload!
Chocolate and orange is one my favorite flavor combinations, so I love this cake. The only problem I had was that I should've halved this recipe, because it made enough for 4 mini round cakes. I put the excess batter into my mini bear and bunny pans, and they stuck like a mofo. They stil taste good, though. The round pans stuck a bit as well, but I think that's my fault for not letting them cool completely. Plus the chocolate chips always make things a bit stickier.
Overall I'd call this experiment a success. The cake itself is really good, even without icing. The icing itself is the only part I'm not happy with, and that's just because it's ugly.
So there you have it.