Three-Bean Dal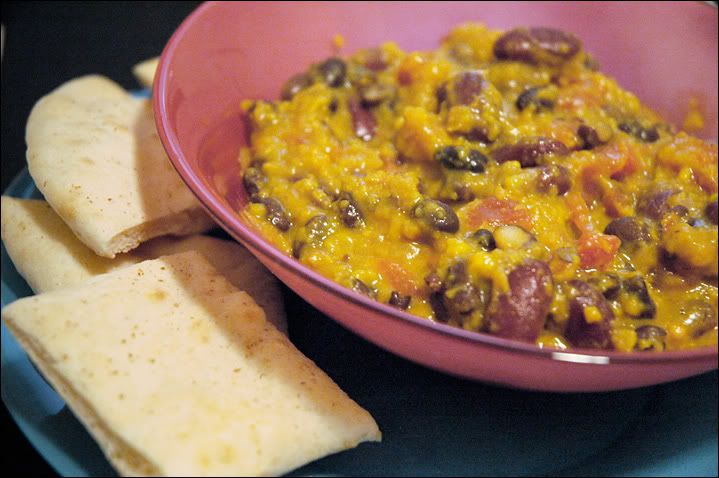 Tonight's dinner was Three-Bean Dal from Vegan Planet. I really love this book, but I don't use it too often. I don't really know why. In any case, this recipe is definitely a keeper. It's very bean-heavy - I mean, it's basically just a combination of three beans and some spices - which I consider a positive thing since I don't think I eat enough beans most of the time. It's not exactly quick - it takes about 45 minutes, not including prep work. But it's a lot faster to make than the traditional dish it mimics (dal makhani), and it's really tasty. Plus it's really high in fiber and pretty good on protein as well, and therefore super filling.
I made a few substitutions, but it's nothing that should really make that big of a difference. I'm going to post the recipe as it's written in the book, and then my changes at the end.
Three-Bean Dal
from
Vegan Planet
by Robin Robertson
1/2 c dried yellow split peas
3 c water
1 tsp turmeric
1 1/2 c cooked black beans (or 1 15 oz can, drained and rinsed)
1 1/2 c cooked red kidney beans (or 1 15 oz can, drained and rinsed)
salt to taste
2 Tbsp corn oil
1 medium onion, chopped
1 large clove garlic, minced
2 tsp peeled and minced fresh ginger
1 tsp cumin
1/2 tsp coriander
1/2 tsp cayenne
1/4 tsp ground cardamom
1 14.5 oz can diced tomatoes, drained and finely chopped
2 Tbsp chopped fresh cilantro for garnish
Put the peas and water in a large pot over medium-high heat and bring to a boil. Bring the heat down to low and stir in the turmeric, then simmer, partially covered, for about 20 minutes. Stir occasionally. After 20 minutes, add the black and red beans and salt to taste. Simmer, uncovered, until the pea "sauce" thickens and the beans are very soft, about another 20 minutes.
Heat the oil in a skillet over medium heat and saute the onion until soft. Add the garlic and ginger and cook, stirring, for about 30 seconds. Add the spices and tomatoes and cook, stirring, for another 30 seconds.
Add the contents of this pan to the pot of beans and stir to mix well. Garnish and eat.
My changes:
I used 1 Tbsp of oil instead of 2, moong dal instead of split peas, 1/2 tsp of ground ginger in place of the fresh, only 1/4 tsp of cayenne, I didn't chop my diced tomatoes any further, and I didn't use any cilantro because I don't have any right now. Oh, and I cooked the spices and tomatoes for longer than 30 seconds. Maybe 2 minutes or so. In any case, it was yummy.
The book says this serves 6; I'd estimate we got about 5 servings. But then, it was oour entire meal. If you have this with other things then I can definitely see it serving 6 or even more.