4/11 - Spinach and Sun-Dried Tomato Tempeh Wrap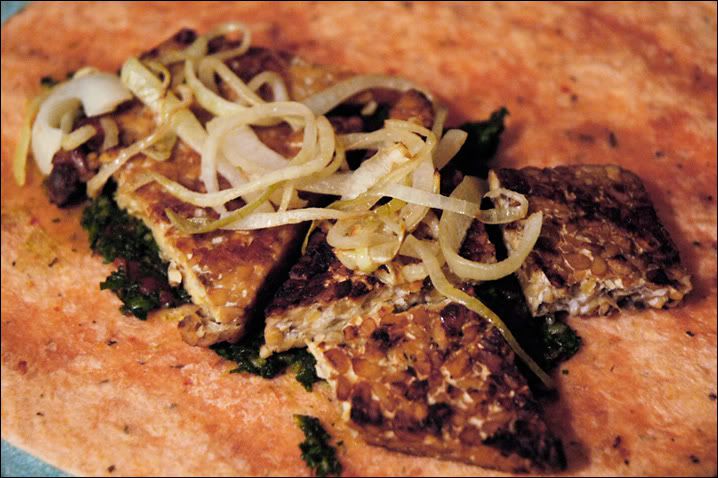 Tonight's dinner was a tomato-basil wrap filled with marinated tempeh, sauteed onions, and spinach and sun-dried tomato "pesto," with maple-roasted carrots on the side. The idea for a spinach and sun-dried tomato pesto-type spread has been kicking around in my mind for a few days. I suspected that it would be delicious; I was right.
I basically took a bunch of fresh spinach (maybe 3 cups?) and whizzed it in a food processor with 6 sun-dried tomatoes, a lot of garlic (a little less than 1 Tbsp. minced), and a smidge of olive oil. I know pestos usually have pine nuts and a lot of oil in them, but I've never purchased a pine nut in my life and I have something of an aversion to using a lot of oil. Besides, rules are made to be broken and all that. These amounts didn't make a lot of pesto - enough for 4 wraps, probably. I didn't want to waste a whole bag of spinach on something that might've sucked, but now that I know it's good I'd definitely make larger quantities in the future. I can think of a lot of ways to use it, and anything that helps me eat more greens is definitely a keeper.
The maple-glazed carrots came from
Vegetarian 5-Ingredient Gourmet
, and were pleasant but not particularly memorable. It was just a bag of baby carrots tossed with 2 Tbsp maple syrup, a little over 1/2 Tbsp olive oil (the recipe calls for a whole Tbsp), and a pinch of cinnamon and roasted. I love carrots however they're prepared, so coated them in fat and sugar was really just unnecessary for me. Not to mention it added a ton of calories, which I don't love. Meh. I probably won't make them again.
Operation: Shake That Ass Update:
Week 2 started yesterday with an early run, and I did strength training today. I don't know where I stand weight-wise because I'm trying to divorce myself from the idea that success is dependent on a number, but I definitely feel better. I have a lot more energy. Things in this little compartment of my life are good.
Tomorrow:
A very special post about my sweet new lunch container.