4/8 - Spicy Peanut Noodles, Udon-Style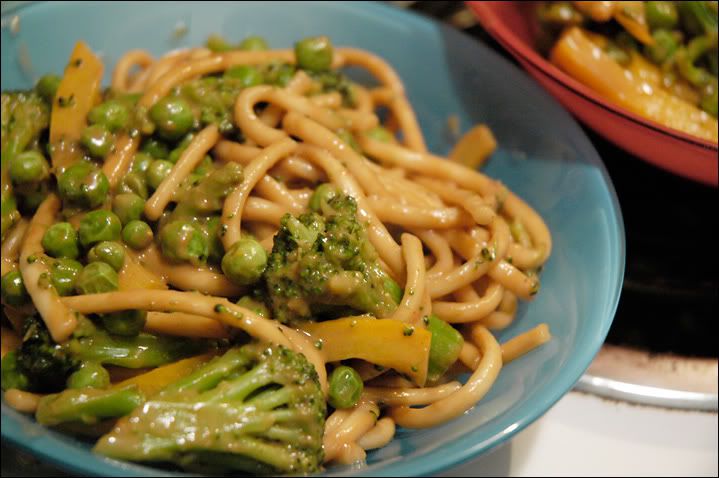 I spent about half an hour looking through cookbooks tonight, trying to decide what to have what for dinner. I had it narrowed down to two recipes when my stomach suddenly became a ravenous black pit. Both recipes required over an hour of cooking time. That simply would not do.
So I turned once again to my trusty peanut noodles, only this time I had to use udon noodles because that's all I had on hand. I've never had udon noodles before tonight... they were interesting. Very chewy. And salty as all hell, though maybe that was just my particular package. It was still good though. But I'll admit I do prefer soba noodles.
Today marks the end of week 1 of Operation: Shake That Ass, aka my workout plan. (I like to give these things official names. I don't know why. Perhaps my subconscious has military aspirations. Any plan is more fun covert ops-style.) I did my strength training routine after work, and The Boy joined in. He was amazed at how difficult it was. He had more trouble than I did, actually. I'd be lying if I said I didn't enjoy that a little, since he's not overweight at all. Fat doesn't always equal out of shape. Not that I'm in shape or anything. I'm not. But I've always been very healthy despite my excess weight.
Anyway, I enjoyed my first week of ass-shaking and am very much looking forward to staring week 2 on Monday. Good times.