Friday 4/7 - Apple Oat Pancakes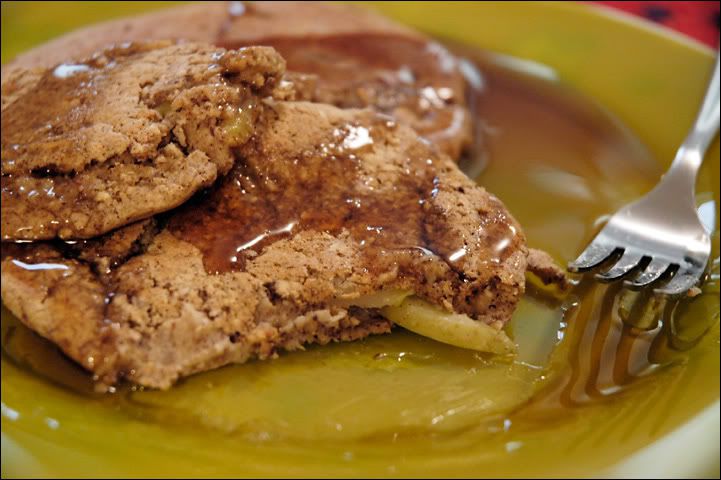 It was 9:30 am and The Boy and I were pondering what to have for breakfast after our run. Not oatmeal. Not smoothies. Not anything savory like home fries. How about pancakes? I turned Vive le Vegan and picked out the Apple Oat Pancakes. I wouldn't call them a complete success, but they weren't a failure either.
There is no conventional flour in this recipe. It is simply ground oats, spices, baking powder, soymilk, a little oil, and thinly sliced apples. I added some ground flax because... well, just because. It wasn't enough to mess anything up, maybe two tablespoons. The diversity of flours is one thing I love about Vive le Vegan, because although I'm not sensitive to wheat at all I know that there are more nutritious options out there, especially in comparison to regular white flour. However, using only ground oats does make for rather fragile pancakes. That plus the apple slices made these a mess on the griddle. Next time I would either grate the apple or cut the slices a lot smaller, so that they would incorporate into the batter a bit better.
In the end I'll say that they are pretty tasty. I added about 3x as much cinnamon as the recipe called for, sort of by accident and sort of because I might possibly be addicted to cinnamon. The taste wasn't overwhelming, though - the cardamom, at just 1/4 tsp, was equally powerful. I had mine with fakey, sugar-free "maple-flavored" syrup, which I know is grounds for death by stoning. But it's not
that
bad, and I just can't bring myself to use real maple syrup because I like to drown things in syrup and that would just be ridiculous on all counts.
Anyway, I give this recipe a 7. Good but fragile and in need a few tweaks.